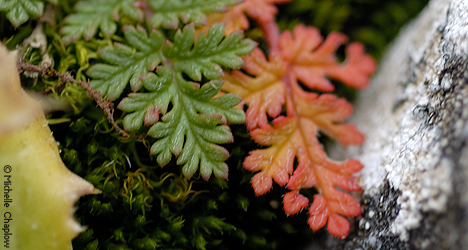 Flora in the Sierra de las Nieves.
Flora
With a relatively high level of rainfall and a reasonable altitude, there is a good coverage of vegetation and trees. The higher and wetter parts offer a range of trees and bushes of all colours, particularly in the autumn months. Greens and yellows, plus the reds of the maple trees contrast with the grey rocks. This is when the trees bear fruit.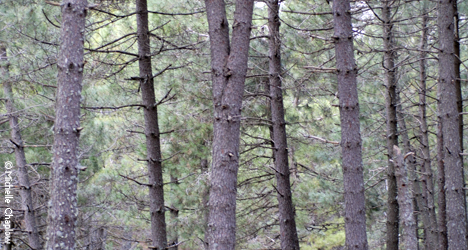 Spanish fir trees.
Trees
Areas near small brooks and springs are ideal for the ash, or fresno in Spanish (Fraxinus).
The chestnut tree or castaño (Castanea sativat) likes the moist areas and silica soil and altitudes between 400 and 1000m
In the drier areas we find the region's famous pine trees. Pinus pinaster aiton is the most common and since it is highly resistant to cold it can be found even at 1700m. The Pinus halepensis prefers the lower slopes and is found up to 1200m. The third pine found in the park is Pino piñonero. Its presence is entirely due to reforestation. The pine forest constitutes 2000 hectares of the park.
The carob tree or algarrobo (Ceratonia siliqua) grows spontaneously all over the park, mixed with the pines. It can withstand high temperatures and is found between 600 and 1000m.
The common Quercus found all over the Mediterranean is found here too, in the form of the gall oak or quejigo (Quercus faqinea) and the evergreen oak or encina (Quercus ilex).
Flora in this wonderful nature reserve
The wild olive tree or acebuche (Olea europea) is one of the species best adapted to the Mediterranean climate.
Cork oak is also found in the park, mainly in the west around Mount Alcornoque. Acorns are the staple diet of the black pigs whose cured ham - pata negra - is the local delicacy.
The Spanish Fir, the juniper (Juniperus phoenicea) and the enebro (Juniperus communis) are also common.