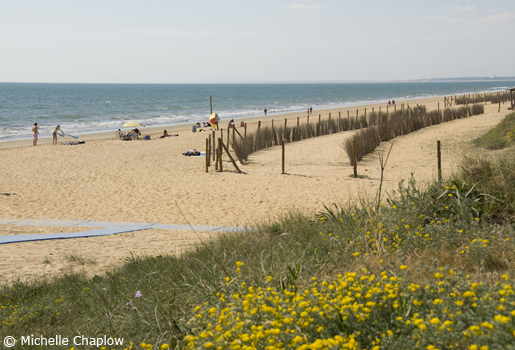 The beaches of the Costa de la Luz are blessed with white sand.
Punta Umbria is the largest seaside town along the Huelva Costa de la Luz. It's busy with beachgoers from Sevilla and Huelva city in the summer, when there is a vibrant nightlife with loads of late-night bars and clubs to choose from when the sun goes down. Three of the beaches in the Punta Umbria municipality have been regularly awarded Blue Flags by the E.U. for their high standards of cleanliness and excellent facilities: Playa El Portil, Playa La Bota and Playa de Punta Umbria.
Follow our guide to Punta Umbria beaches, west to east:
Playa El Portil
One of the smaller beaches on the Costa de la Luz at just 40 metres wide, Playa El Portil stretches for 3.6km alongside the El Portil Lagoon (Laguna de El Portil), an area of outstanding natural beauty. The golden sands and tranquil waters are favoured by Spanish holidaymakers, although it has become more popular over recent years. The beach has all amenities and facilities, including parking, showers, lifeguard stations and cafes.
Playa de la Bota
Also known as Playa El Cruce. Many of the Huelva City residents come here as it is one of the closest to the city, so it is extremely busy during summer weekends. It is also popular with those who practice windsurfing, kite surfing and parascending. The 4km beach can be accessed by a footpath and cycle path that runs parallel to the sea. It boastsa regularly awarded blue flag facilities including several beach cafés and restaurants, parking, showers, parasols for hire, toilets and a lifeguard station. Beware that there can be strong currents on occasion so pay attention to the flags that signal the condition of the sea.
Playa de la Mata Negra (leading onto Los Enebrales)
Mata Negra is a beautiful rural beach located in the heart of the Los Enebrales Natural Park. It offers few facilities, such as parking, a summer beach bar and a lifeguard post. From here you can get to Los Enebrales beach. It is reached via boardwalks through the beautiful dunes and forest which are home to many species in danger of extinction (so make sure to keep to the paths!). The 3.5km beaches are peaceful and is chosen by lovers of naturism and fishing. There are no facilities here so don't forget to pack food and plenty of water!
Playa de Punta Umbria
Punta Umbría beach is located next to the town of Punta Umbría on a small peninsular where the sea meets the Paraje Natural de Marismas de Odiel. The 3.8km urban beach is the oldest tourist beach in the Punta Umbría area and has been regularly awarded Blue Flag for its high standards of cleanliness and excellent facilities. The beach is 50 metres wide and is most often visited by Spanish holiday-makers, although more and more foreigners discover it each year. Many visitors practise windsurfing and kite surfing here.
Playa de la Ría
Located on the other side of the Punta Umbría sand spit, this estuary beach is only 700 metres long. The calm waters make it popular with families with young children and also with those who enjoy water sports, thanks to the proximity of the yacht club. However, when swimming, do be aware that the water depth drops quite close to the water's edge. The beach offers all facilities: parking, showers, toilets, lifeguards and cafés. The beach is best when the tide is in or is on its way in.
<< West to Cartaya beaches          -            East to Huelva City beaches >>
Destinations