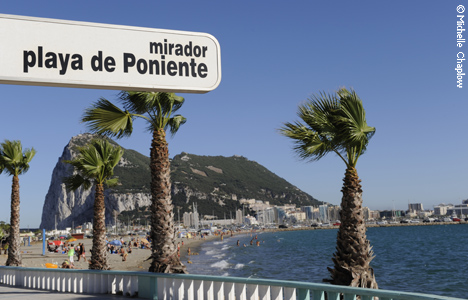 Poniente (El Espigón)
Playa de Poniente is an urban beach backed by an area of large Brown tower blocks, located to the left of the port. The beach is around 700m long with grey, medium-grain sand and an average width of just 15m. It has a pretty landscaped paseo maritimo with its own cycle lane and plenty of nearby parking. It is mostly frequented by residents of the town and can get very busy during the summer. The beach has plenty of facilities including public toilets, showers, lifeguards, a Red Cross post and beach bars (open in the summer). There are several hotels and hostels nearby.
GIBRALTAR
The are also five beaches over the border in Gibraltar.   
Santa Barbara
Often considered the start of Playa de Levante, Playa de Santa Barbara is the first Spanish beach to the east of Gibraltar and starts almost next to the Gibraltar airport runway. It has grey, medium-grain sand, as is typical of this area, and some facilities (which are shared with Levante beach) including public toilets, showers, changing rooms, kiosks, life guards and places to hire sun loungers and parasols. There is a paseo maritimo and one chiringuito nearby.
Levante
Continuing on from Playa Santa Barbara, Playa de Levante has similar characteristics with the grey, medium-grain sand and a paseo maritimo, although it is more like a large cement breakwater that separates the road from the beach. The 75m beach is frequented mainly by locals and is equipped with disabled access, public toilets and showers, life guards, flags signaling the conditions of the sea, maintenance services and parasols and sunbeds for hire.
Atunara
Playa de la Atunara is clearly divided into two parts: to the south of the Atunara fishing port is a much more urban beach area, whereas to the north of the port is the wider, more open part of the beach with plenty of natural surroundings. The entire length if the grey, sandy beach stretches for several kilometers with an average width of 100m. The beach is equipped with toilets, showers and changing rooms. It is particularly popular in the summer with those who enjoying swimming in the sea.
Torrenueva
Playa de Torrenueva boasts around 1.5 kilometers of large, grey sand which, despite its popularity, never gets too crowded. The beach is equipped with all the basic facilities of an urban beach such as public toilets, shower and changing rooms, waste collection, parking and a police presence. On the beach are the remains of its namesake, Torre Nueva, an old watchtower from a sixteenth century coastal surveillance system.
<< West to San Roque beaches      -      East to Alcaidesa Beaches >>
Destinations