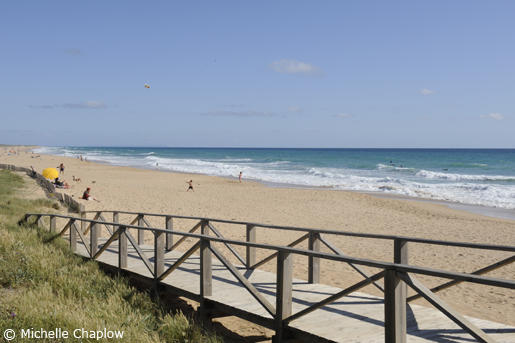 The idyllic Playa del Palmar, near Vejer de la Frontera.
Playa del Palmar
Just nine kilometres from Vejer de la Frontera the Playa del Palmar beach stretches out across the Cádiz coast inviting visits from locals and tourists alike. Nearby Capes  of Trafalgar and Roches protect the coast.
The Cadiz coast is home to truly stunning sunsets.
During the summer months this beach is fully equipped to handle an onslaught of beachgoers from across Spain and Europe with services including lifeguards and first-aid medical staff, restrooms, showers, tourist information and camping facilities as well as numerous beachside restaurants ready to serve fresh fish and drinks to hungry guests.
The beach near Vejer is also an excellent place to enjoy your favourite water sports: sailing, surfing, wind-surfing, and water ski, for example.
During the winter months, the beach the Playa del Palmar is a quiet nature reserve, ideal for long walks.
<< West to Conil de la Frontera           -               East to Barbate beaches >>
Destinations