Vejer de La Frontera - Hotels
Vejer de la Frontera has excellent Holiday Rentals for visitors. Inside the town itself you will find comfortable, charming hotels as well as the traditional Spanish "pensiones" or "hostals" which are very simple hotels that provide the basics. 
Outside the village, a thriving rural tourism industry provides a whole range of country accommodations including old-style fincas (Spanish country estates), small and large rural hotels  and rooms in traditional buildings that have been renovated as bed and breakfast facilities.
Hotels in Vejer village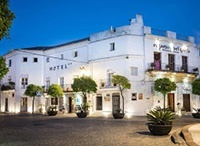 Vejer's landmark hotel, which since its founding in 2001 has become a favourite place to stay in Andalucia for travellers and Spaniards alike. The Califa's origins date back to the 10th century. An ideal place from which to explore the Atlantic Costa de la Luz and the 'Sierras' of Cádiz.
Plaza 18 is a six bedroom luxury hotel in the heart of Vejer's medieval quarter and adjacent to the palm-filled Plaza de España. Enjoy a tranquil stay in a house that feels like an elegant home, with panoramic views from the terrace and full use of the adjacent Hotel Califa's facilities.
Hotels outside Vejer village
Book Hotels in outside Vejer
Destinations