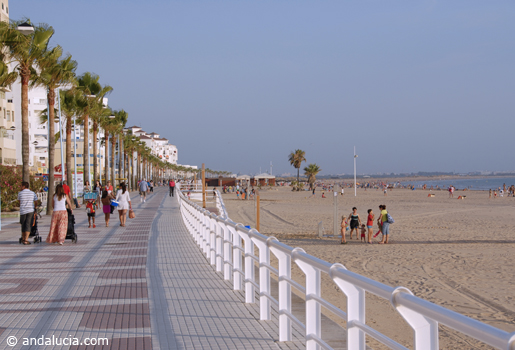 Valdelagrana is one of the many popular beaches in the area.
To the east of the Rota American naval base is the town of El Puerto Santa María which is well known for its sherry, cobbled streets and typical Andaluz architecture.
Fuentebravia
The first beach to the east of the naval base is Playa de Fuentebravía. The golden, sandy beach is 1.6km long with a width of 30m and is backed by the Fuentabravía residential area. There is a promenade following the back line which is adapted to provide wheelchair access to the sand. The sea has a moderate swell making it popular with those who enjoy windsurfing, fishing and diving. The beach is equipped with showers, changing rooms, toilets, flags showing the state of the sea and has sun-loungers, parasols and peddle boats for hire. There are two restaurants, two beach bars and a car park nearby.
Santa Catalina
Playa de Santa Catalina is 2.7 kilometers long and 40m wide. The beach can get busy due to being backed by several residential areas and is particularly popular with windsurfers as it is possible to rent boards here. The beach is also equipped with toilets, showers, a beach bar, a restaurant and parasols and sun loungers for hire. There are two car parks: one halfway along the beach next to Las Redes urbanization and one at the far eastern end.
Caleta del Agua
Also known as Playa de la Muralla, this tiny beach of just 800m boasts calm waters, making it popular with scubadivers and those who have a motorboat or enjoy fishing. The beach is located between two remains of the old fortification of the Santa Catalina castle (16th century). The beach has a seasonal beach bar as well as showers, toilets and parking. To access the beach, head down Avenida de la Libertad towards the Puerto Sherry where you will finding car parking.
La Puntilla
This is the most popular beach in El Puerto de Santa María thanks to its proximity to the town. The beach boasts tranquil waters thanks to the dyke that separates it from the Río Guadalete, however, it can get very windy, making it a favourite with wind surfers and kite surfers. The regenerated beach is well-equipped with showers, toilets, life guards, several restaurants and beach bars as well as sun loungers, parasols and peddle boats for hire. The beach can be accessed via its paseo maritimo  that follows the river and is adapted for wheelchair users, or from the other direction by the Camino de los Enamorados (Lovers' Way) alongside the pine forests.
Valdelagrana
This extensive beach is very popular with tourists and stretches from the Río Guadalete up to another small river, Caño del Bote. Backed by several apartment blocks, Playa de Valdelagrana offers beautiful views across to Cádiz capital. It is another beach that is enjoyed particularly by windsurfers, thanks to the fairly strong winds and the possibility to hire surf boards. The beach has excellent facilities, including toilets, showers, changing rooms, lifeguards, kiosks, seven chiringuitos, lots of leisure activites and parasols, sun loungers and peddle-boats for hire. There is a promenade along the beach that has been recently renovated and offers some wheel-chair friendly access to the beach, as well as a nearby campsite, a picnic area and over twenty restaurants in the surrounding area. There is secure parking available and several buses also serve the beach.
Levante
Playa de Levante is a very quiet, rural beach located inside the Bahía de Cádiz Natural Park. Although it is a secluded beach, there is beach surveillance (carried out in 4x4 vehicles), plenty of parking and a maintenance service. With a length of more than 5km, it is favoured by naturists as well as those who enjoy watersports. It is important to note that when the tide comes in it covers nearly the entire width of the beach.
<< West to Rota beaches          -         East to Puerto Real (Playa la Cachuca) >>
Destinations