aponiente
Aponiente is the ground-breaking, award-winning restaurant of Angel Leon, Chef del Mar, in El Puerto de Santa Maria. The restaurant offers diners an exciting, immersive marine experience, from the location to the food and décor.
In 2017, Aponiente earned its third Michelin star (the first and second were won in 2010 and 2014), making it Andalucia's first-ever three-Michelin-starred restaurant.
Special dishes and techniques
Considered one of Spain's most innovative chefs, Leon specialises in experimental seafood dishes, using high-tech methods to convert plankton - an essential microscopic food source for whales and fish in the ocean, with a distinctively sea-ish taste -into edible forms.
Extremely nutritious (high in Omega 3s), plankton, specifically algae, is extraordinarily time-consuming and expensive to produce: 1kg costs 3,000 euros. Leon farms it sustainably in tanks, so he doesn't affect the food chain for ocean sea creatures, then freeze-dries it.
As well as plankton paella with aioli tartare, Leon's signature dishes include bourguignon of scallops and sea sausages (chorizo made of fish).
Leon is also environmentally-minded in that he uses types of fish which are often discarded, to avoid waste. Another gastro-tech first is using marine bioluminescence (light naturally produced by living organisms) for visually stunning gastronomic effects: he calls it "light from the sea".
Many of the wines to match the 22-course menu come from the local area, including Sherry wines from nearby Jerez and El Puerto itself, part of the "Sherry Triangle". In 2016, Leon introduced his own fino en rama (unfiltered dry Sherry), Yodo, made by Bodegas Lustau and only available in Aponiente.
The restaurant building and setting
Aponiente is located in a beautifully-restored 19th-century sandstone tide mill which straddles a tributary of the Guadalete- set on arches, the building feels like it's floating on water. The views of river and salt marshes are stunning - the marine theme pervades the whole restaurant experience.
Inside, you walk past the kitchen and winery to get to the dining room, which has marine-themed décor, including a mermaid sculpture, fishtail chairs and algae-shaped lights. Dishes are creatively presented with seaweed garnish, or as a rock pool.
This is the review from the Michelin Guide to Spain and Portugal 2018: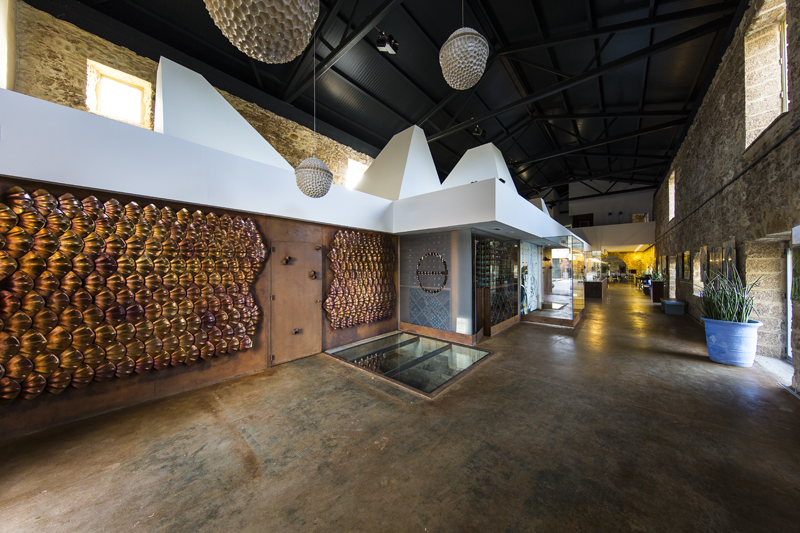 "Immerse yourself in the fantasy culinary world of Angel Leon, a gastronomic visionary. He has taken his cooking into unchartered territory thanks to his prodigious technical ability, boundless creativity and, above all, a constant love affair with the sea."
The previous premises of Aponiente, is now a tapas bar, La Taberna del Chef del Mar.
Calle Puerto Escondido 6, Tel: +34 956 112 093.
Leon is also Gastronomic Director of one-Michelin-starred restaurant Alevante in Hotel Melia Sancti Petri, a luxury beach resort in Chiclana de la Frontera.
C/ Francisco Cossi Ochoa, s/n, 11500El Puerto de Sta María, Cádiz.
Tel: 956 85 18 70 / 606 22 58 59
Related blog posts
The Chef del Mar gets his second Michelin Star 
Chef del Mar wins Andalucia's first-ever three Michelin stars. 
Destinations