And the award goes to...And the award goes to...
I'm not a great fan of awards, as I'm never sure quite how independently they're chosen (especially here in Andalucia, where more than anywhere else, it's not what you know, it's who you know), if you catch my drift, but this week there were some I though worth mentioning. This is partly because I happened to see the chef who won speaking at a press conference last week, and partly because I know the hotel which picked up the award for "Excelencia en la Gestion".
The Premios Andalucia de Turismo recognise the work of people or groups who have helped to develop this most crucial industry, one of those which has suffered least from the region's economic woes.
The hotel which won an award for "excellence in management" is a small but characterful establishment, in Barrio Santa Cruz here in Seville, called the Hotel Amadeus. Offering reasonably priced rooms in a traditional house with patio, its decor is standard Sevillano (chintz, gilt, dark wood), with an unusual twist: the hotel is music-themed. Violins and musical scores line the walls, there is a grand piano in the main central patio, and the hotel has a (soundproofed) practice room with its own instrument provided. Some bedrooms are also soundproofed, and guests can even borrow instruments. Unsurprisingly, concerts are held too. For many years it has achieved consistently high ratings in travellers' review websites such as Trip Advisor.
The other award which caught my attention was for chef Angel Leon, of restaurant Aponiente in El Puerto de Santa Maria, near Cadiz. Angel is fascinated by, and devoted to, marine life. He has invented a machine for using algae to clarify (remove the fat from) stock, to make perfect soups, and also a way of "farming" plankton, which he says are up to 50% protein and contain Omega 3 Acids; he uses them in his "Arroz de Plancton Puro"; he also makes embutidos (cold cuts) out of fish: chorizo, salchichon and butifara, having learned from the matanza experts in Huelva province who turn pigs into sausages. His fish sausages, made using mijol (grey mullet), will be available to buy in El Corte Ingles in a couple of months.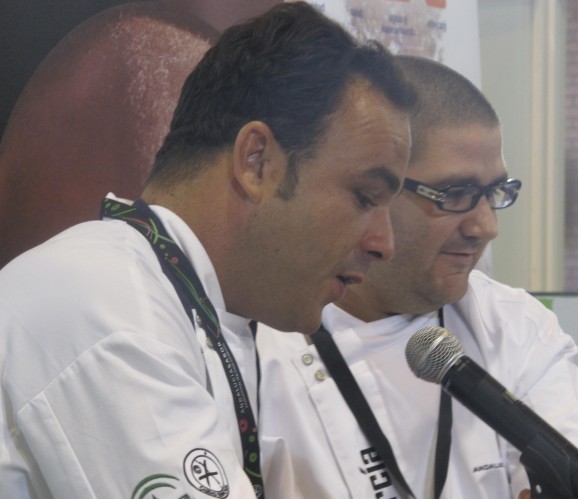 Like that other celebrated chef-scientist, Ferran Adria, Leon is known as much an inventor as a chef, experimenting with what comes out of the sea. He also accompanies the fishermen, so he can "get to know the sea". Such is his fame as master of marine gastronomy, that he's knowsn as "El Chef del Mar".
His restaurant has a Michelin Star. As a keen pescatarian and sausage-lover, I'm making my reservation now.