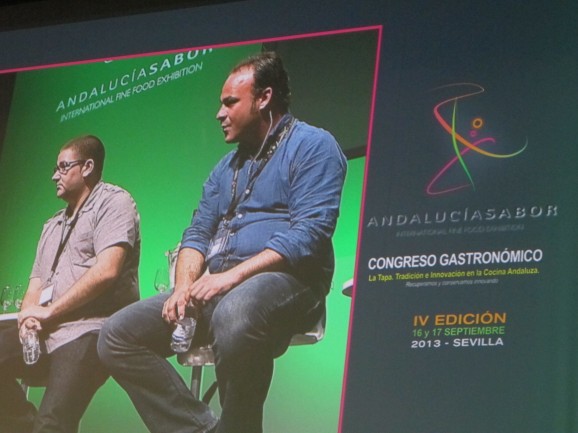 Michelin-starred chef-restaurateurs Dani Garcia (left) and Angel Leon at Andalucia Sabor IV in Seville this week
I often write about food on this blog, which is no coincidence as Andalucian produce is finally being recognised at an international level for its superb quality and astonishing variety, and increasingly, our restaurants are being lauded for their impressive innovation. Andalucia's gastronomy is also a shining economic beacon of hope in the darkness of the "crisis". Dani Garcia (Calima and Manzanilla) and Angel Leon (Aponiente) are two of the region's best-known chefs, with three Michelin stars and four restaurants between them (one of those in New York). Both are constantly coming up with original takes on classic Andalucian dishes - in Angel's case, specifically fishy ones. He farms plankton to have distinct flavours - this man is culinary master of the sea, a marine magician. As a pescatarian, for me he is nothing short of a god.
Two years ago, at the last Andalucia Sabor food exhibition and conference in Seville, I heard Dani and Angel talk, along with other chefs from the region, at the launch of a charity initiative. This year, they were "interviewed" about tapas - the title of the discussion was "The Andalucian tapa: from tradition to innovation" - and both made some interesting points and observations.
Two of Andalucia's top chefs at Andalucia Sabor: Dani Garcia (left) and Angel Leon talk tapas
Dani said that, since he opened his restaurant Manzanilla NYC nearly a year ago, New Yorkers have come round to the idea of tapas - before they mostly ordered main courses, but now they enjoy sharing. They agreed that concept of tapear - to go on a tapas crawl - doesn't exist outside Spain. Tapas bars abound, with many recent openings in London especially, but a gathering contained within a small area so you can hop between them - that is limited largely to Andalucia. They agreed that the climate helps for walking around and eating outside all year round - "nuestra clima, nuestra alegria, nuestra forma de ser" - our climate, our joy, the way we are.
The word "tapas" has become international - for example it is widely used in Mexico now, said Dani. The tapa itself is an open concept, with no clear definition, Dani and Angel agreed, as Dani bemoaned the amount of sub-standard Spanish restaurants around the world. "I've eaten lots of Spanish food that had nothing to do with Spain," he said, citing chefs who gave their qualifications as having worked in a Spanish hotel 20 years ago.
The hot topic of street food, very de moda in the UK and US, came up. Dani said it is wrong that it should be prohibited in Spain, as it's a great food scene, and should be allowed to happen. I would add that there are churro stalls at every feria and outside every night club, but imagine picking up some freshly-made and cooked tuna empanadillas and mushroom croquetas to nibble on, as a yummy snack on a rest stop while you're out shopping. I don't know about you, but my mouth's already watering at the mere thought.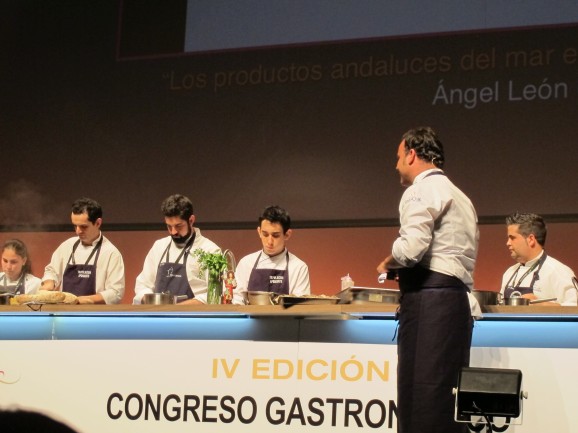 Angel Leon with the team from his restaurant, Aponiente - a well-oiled machine.
I watched Angel and his team (which he refers to as his crew; the restaurant is his boat) cook a six-course meal in half an hour, on stage in front of the audience - this was at FIBES' snazzy new conference hall in Seville. Show cooking is a big part of food events these days - watching these big names introduce their ingredients, prepare them (much of the work is done in advance, admittedly), adding the finishing touches, and "plate" them. Angel is a natural showman, and he owned that stage, regaling us with anecdotes during the full-on preparation. Four lucky people were chosen from the audience to come up and do the honours, with wines served to complement each course - Aponiente's sommelier and Maitre D'were also in attendance for the full pop-up gourmet restaurant experience.
The exquisite smells wafting down from the stage to the audience where I was sitting (near the front - pick me!) were sheer torture. Angel prepared dishes including a "pepper" made of crab and baby squid (he loves making dishes which appear to be one thing, but are something else altogether), navajas (razor clams) with capers and anchovies, oysters with plankton, and slow-roasted almadraba tuna. A huge screen showed the actions of Angel and his sous-chefs in close-up. After seeing (and smelling) his cooking I am more resolved that ever to go to his restaurant, Aponiente in El Puerto de Santa Maria near Jerez, to have the full experience. I have a fellow foodie who is chomping at the bit to accompany me.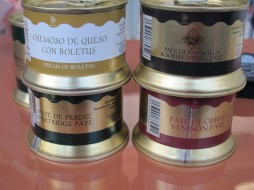 Cheese, game and meat pates from Jaen.
The rest of Andalucia Sabor was equally impressive in terms of professionalism and innovation. I tasted gelatin wine globules, small and round to look like grapes, in three different varieties - light, cool and bursting with intense flavour. I sampled smoked olive oil, which begged to be used to make houmous or drizzled on grilled/barbequed vegetables. I tried a chirimoya (custard apple) smoothie. I nibbled sheep's cheese with sherry. I crunched on air-dried organic fruit.
Jaen had a particularly strong showing this year, including the smoked oil, as well as some excellent pates (the cheese and mushroom one was good so I'm recommending the game ones on that basis - partridge and venison), and an olive oil farm with homestay, an idea which is still to be developed here in Andalucia. In Tuscany and other areas of Italy, countless places offer accommodation and the chances to see and taste their produce.
In these heady times of the food tourism explosion, and the enthusiasm for seeing where our food comes from, the experience of staying on a traditional finca and watching the olives being picked and pressed - or even better, taking part - and then tasting the resulting oil is a holiday opportunity that many foreign visitors to Andalucia would jump at.
Andalucians are bursting with bright ideas for quirky new foodie experiences - many primarily for export. I met a number of recent start-ups - small businesses specialising in niche markets, with seriously high-quality products. It's great to see brave new green shoots appearing in such challenging terrain - and such damn tasty ones, too.