Yesterday I went to a food fair at the Palacio de Congresos in Seville. I've been to quite a few trade fairs there, on various subjects such as travel and tourism, weddings (yikes) and art. Over the years, they've turned from dusty places with grim, inhospitable stands peopled by terrifying - and terrified - looking besuited men and women, to imaginatively designed, open-plan stands with friendly, smiling staff. And the biggest change is that everyone speaks English now. Not necessarily all that well, but enough to make an effort.
This food fair was specific to Andalucia - heaven for me - my parish, and one of my favourite pastimes - eating. As always, I was interested in the
ecological produce
. And I wasn't disappointed. I met some delightful people - the producers themselves, not sales or marketing people, often accompanied and aided by their families - and tasted some fabulous natural foods.
The first was some smooth, creamy, fresh-tasting goat's cheese, from Arcos de la Frontera. The cheesemaker is Angelika Schaub, from Germany. Angelika's friend owns the flock, and she makes yoghurt as well as cheese, though not at the moment as the goats are pregnant and so she can't use their milk until after the kids are born and weaned (so she told me, amused at my fascination. The things you learn at trade fairs). She sells her cheeses at the once-a-month
organic market in Seville
- second Saturday of the month, in case you're asking.
Next to Angelika's stand was Bio La Frubense, where I tasted the best sundried cherry tomatoes ever. This family firm doesn't use any salt in any of its products, and the concentrated, sweet flavour which bursts out when you bite the cherry (so to speak) doesn't need any extra enhancement. This extremely happy journalist had an ununsual, but most welcome, free breakfast of organic goat's cheese, sundried tomatoes and red peppers in olive oil. Bio Frubense's products are stocked in Carrefour and Hypercor.
I didn't have to go far to extend my stay in organic food heaven. Alfonso Gutierrez's family has been making honey in Cadiz province for five generations. A self-effacing, charming man, he sells his product in Harrods. As you may have guessed, it's not cheap. But the packaging is clever and eye-catching, and the varieties are to die for: as well as the old favourites, lavender and orange blossom (a must for this adoptive Sevillana), there was Wild Forest and Holm Oak.
Alfonso told me, with a typical sense of Andaluz passion and drama, that "para sacar un producto ecologico, hay que amarlo mucho - y aparte, sufrir" - to get an organic product, you have to love it a lot - and suffer, as well.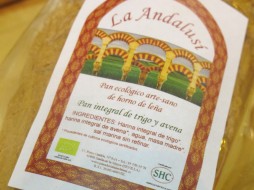 Other eco-products included gazpacho, jams, olive oil, wine and bread - local bakery La Andalusi makes all sorts of different types, including onion bread. Not easy to get around these parts, flavoured organic bread.
I can't tell you how much pleasure it gives me to see organic food finally starting to filter into our shops here in Andalucia. And especially when they are produced by small companies like this, who can keep going despite the viciously difficult economic times. Even if they're a bit pricey, I will buy them to support these valiant, environmentally-conscious champions of good, healthy, tasty food.