Roche
Take me to: Roche Hotels
The modern beachfront development of Urbanisacion Roche is located on the Costa de la Luz, between the coastal conurbations of Novo Sancti Petri and Conil de la Frontera. It is about 15km northwest of Conil.
This private residential development is part of Conil, and its beach can only be easily accessed by those staying in the urbanisation due to parking. Facilities include tennis, paddle and volleyball courts, swimming pools, restaurants, gardens and children's play areas.
Torre del Puerco, a 19th-century coastal defence tower, marks the northern limit of Roche, and its southern point is Cabo Roche, or Calas de Roche, a series of red cliffs which shelter many small coves (calas). Slightly tricky access – long, steep steps down to the beach – means they're less crowded in the summer months. Parking is available on the local road and access to the top of cliffs path used by walker and cyclists is provided by board walks. The secluded location of the Calas de Roche means they're also popular with naturists.
These are some of the calas, starting from the Conil end: Cala Tio Juan de Medina, Cala del Pato, Cala del Frailecillo, Cala del Aspero y Cala Encendida.
Being a private urbanisation, Roche does not have a lot in terms of accommodation. However, it does have a wide variety of self-catering accommodation, including apartments and villas. Most of the… More →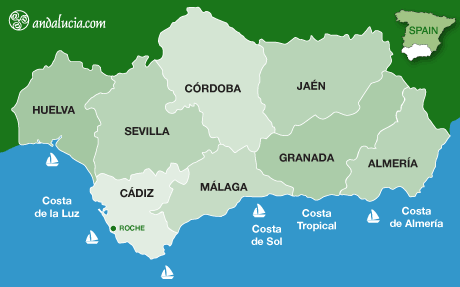 Destinations