Atlanterra
Take me to: Atlanterra Hotels | Atlanterra Rentals
Atlanterra, in Cadiz province, is an exclusive urbanisation situated 30km north of Tarifa (and within the municipal boundry) but access is by the only road leading south from the small fishing village of Zahara de los Atunes, which is 10km south of Barbate separated by military land and the salt marshes.
It is a private residential development located on the Cabo de Plata, next to Zahara, and Cabo de Gracia. Atlanterra consists of luxury hotels, chalets and restaurants.
It has a golden sandy beach, popular in the summer and parking can be difficult in some popular parts. There is a watchtower called Torre de Gracia and a clifftop lighthouse (Faro de Camarinal), at the southern end built over a 16th-century tower.
The road does not continue south after Atlanterra for motor vehicles, which is one of the reasons for its popularity – the lack of through traffic. To the other side of the Punta Camarinal after one small beach cove is the popular and expansive beach of Bolonia, with its Roman site Baelo Claudia.
How to Get there
To get to Atlanterra, go to Zahara de los Atunes, and then continue south following the coast road, CA 2216.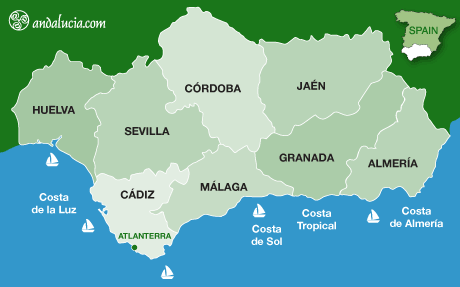 Destinations