Barbate
Barbate is a town of some 20.000 people on the Costa de la Luz, 40km north of Tarifa. This modern town, (often called Barbate de Franco because the ex-dictator spent many summers here), has grown up around a fishing industry which goes back to Roman times when the fish-salting industry was at its peak.
Its modern layout lacks the charm of some of the more traditional Andalucian villages, but there are nevertheless, some nice buildings in the heart of the old town. There is a modern square "Plaza de la Inmaculada" with the Town Hall on one side and the ancient Church of Sta Paulino on the other.
The town is popular in the summer with Spanish holiday makers although it is generally untouched by foreign tourists.
Beaches
There are several beautiful beaches close to Barbate including one right in front of the town. More >
Natural Parks
Just to the north of the town, a vast Protected Area of pine forest reaches down to 100m high cliffs. The miles of long sandy beaches flanked by pines are well worth a visit.
To the south is another Protected Area, the marshy salt-flats of the Parque Natural de la Brena y Marismas del Barbate.
Local Festivals
23rd June: "Verbena de San Juan" Local crowds gather on the beach at night to burn images of local or national celebrities and notorious politicians.
16th July: "Feria del Carmen" Saint Carmen is the patron saint of Fishermen and also of the town so this festival has particular religious importance for the town.
Gran Sardina - "Festival of the Great Sardine" takes place in the fishing port.
Tourist Office
The local tourist office is located in Calle Ramon y Cajal, 43
Tel: (00 34) 956 431006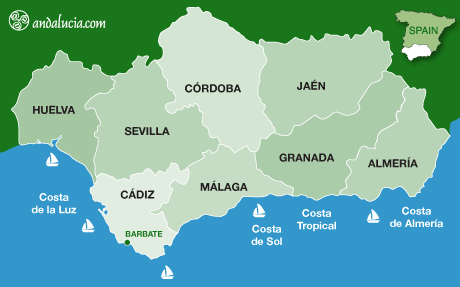 Mountain bike tour Costa de la luz Barbate Zahora
Mountain bike tour Costa de la luz Barbate Zahora
A 40 kilometer long tour through the beautiful La Breña nature park. Departure point is from Zahora. The tour goes towards San Ambrosio up a dirt road through the La Breña nature park. Once you arrive in the nature park, you follow sandy roads to the seaside town Barbate. In Barbate we stop to enjoy a delicious cup of coffee. After having gained energy, we cycle up Barbate Mountain towards San Ambrosio the small village in the middle of the nature park, this route takes us over breathtaking cliffs overlooking the sea. It's a bit of a heavy part, but arrived in San Ambrosio our lunch Andalusian style is waiting for us.

Mountain bike Holiday Costa de la luz Spain
Mountain bike Holiday Costa de la luz Spain
This area on the Costa de la luz is not yet overrun by mass tourism, an incredible nature where the park Breña and white sandy beaches make it a perfect environment for outdoor activities.

Destinations