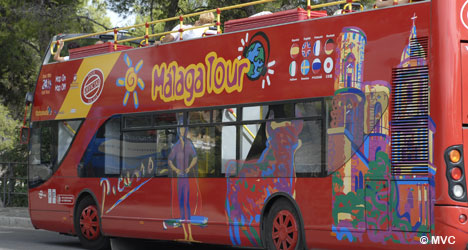 Getting around Malaga City
As with any large city, transport options around Malaga are abundant. On this page you will find our transport information about the city, with links to dedicated pages, and information on the best ways to see Malaga city, and its surrounding areas.
Walking
Walking is possibly the best way to see the sites of Malaga, it is free, and it allows you to take whichever route you want with as many stops as you please, allowing you to view only the things you really want to see and spend as long as you wish doing so.
There are a number of guide books available that suggest walking tours of Malaga, or equally if you go into any of the tourist information centres you will find leaflets offering suggested routes. It is also possible to book guided tours around Malaga City which will offer you great views with inciteful information, these however, are not free.
Bicycle
Another energetic and easy way to travel around Malaga is by bike, this is much faster than walking so you are likely to see more of the sights travelling on a bike. You can of course use your own bicycle but, if you do not have a bike in the city with you it is possible to rent a bike for a few hours, half a day or a full day (prices vary according to the hire company).
Hiring a bike also means you are not limited to travel within the city centre, you could visit one of the local beaches, the port, or if you were feeling particularly energetic - neighbouring villages within Malaga Province. Most companies have a variety of different bikes to choose from to suit your particular needs, there is even the option of fold away bicycles.
Most bicycle hire companies will also give the option of a guided tour on your bike, either within your own party or in groups. Prices vary between rental companies.
Here is a map of Bicycle lanes in Malaga city.
Malaga Bike Rental
Malaga Bike Rental
Discover Malaga on a bike, go to next cities or along the coast line on trekking bike, explore the Malaga Mountains on a mountain bike, cycle to White Villages on a road bike, train on a carbon road bike or just relax pedaling an e-bike. You have a wide scope of choices and you will definitely find the right option for your bike adventure in Malaga.
eBike and eScooter rental
A pay per ride peddle assisted eBike and eScooter hire was introduced in Malaga city in 2018. There were said to be 1.500 vehicles with half a dozen providers. The situation became chaotic and the Town Hall has introduced reglations in April 2019 regarding the parking of scooters an the use in the old city centre area. The town hall has awarded the concession to the company Lime and Dott who also have vehicles in Malaga and Madrid and may other European cites. More>
Bike Taxi
Malaga is famous for its Bike Taxis or Trixis. Trixis are an quick and relaxing way to see Malaga City. As a passenger you sit in a pod-like carriage, which is towed along behind a bicycle. You are completely covered, so a bike taxi is a good all weather travel option. You also do not get stuck in Traffic like in a real taxi, you can travel safe in the knowledge that they are eco-friendly, and you have a personal tour guide in your taxi driver - so you can sit back relax and enjoy the scenery. Prices average at 9euro per person, but they vary according to how far you go and which company you use.
Segway
Segway travel is a recent addition to Malaga. It is a new and modern way to sightsee around the city. There are numerous segway companies based in Malaga, and more are set to appear. Segway is increasing in popularity because it is different, fun and eco friendly. As they are still relatively new, it can seem expensive as a sightseeing method, but at the same time you are getting atourguide and rare, exciting experience from your segway travel.
There are a number of different routes available to take on your Segway Tour, so you can choose one to suit you. Most do packages which include entrance into the main monuments and museums. Prices vary according to which route you choose but average is 30 euro per hour.
To travel by Segway you will need to provide ID, and they will give you training and supply you with a High Visibility Jacket and protective Helmet.
Horse and Carriage
Another popular and traditional way to travel around Malaga is the horse and carriage. This is a unique and relaxing way to see the City sights.  You can find horse and cariages at central locations such as Alameda / Molina Larios or Plaza de la Marina. They are a lovely eco-friendly way to travel (the horses in Malaga are well cared for) and are a romantic way to spend an evening if you are having a romantic stay in the city. They also have the added bonus that they can take you where cars cannot. Popular carriage spots include the parks and the port.  Carriages seat four and cost around 30euros for a 45minute trip. These prices are regulated by Malaga Council.
Train
As with several other European countries, train services are modern, extensive and efficient, making travel by train to and from Malaga from other Spanish cities a delight.
The local train terminal station called Alhameda is located on the Explanada de la Estacion near the CAC museum. Local trains are called "Cercanias" The first stop is the main  Maria Zambrano station. Malaga has a local train service west along the coast to Fuengirola and north west inland up the Guadaljorce valley to Alhora. For more information about Malaga local train services see our Cercanias train  page.
Metro
Malaga has a two-line metro system that runs from the centre to the west and south-west of the city, starting from Maria Zambrano RENFE train station. See our Malaga Metro page.
Bus - local
Malaga has a very eficient local bus service network to connect you to areas around the city centre. The busses are operated by a municipal company called EMT.   Many urban busses are taken from the stops along the central Alameda. EMT have an office there at Alhameda 15. EMT website has urban bus timetable info.   There is Muelle de Heredia (Malaga Port Bus Station) station near the port entrance and Paseo de los Tilos main bus station for long distance coached. Bus station info here.  
Single bus tickets cost 1.30 euro. A rechargeable multi trip card can be purchased and recharged from the EMT office, the kiosk in the centre of the Alameda and many Estancos (Tobacconists) The monthly season ticket  'recharge' is 39,95 euro  or 27,00 euro for students and retired.  Most bus stops give clear route information and many have electronic display of the time the next bus is due.  You can send a text  BUS<space><number of bus stop> to 217213 (from 07.00 to 23.00) and EMT will text you the next bus times. More info in Spanish at emtmalaga.com

Lost property info (in Spanish) including pdf lists of objects found on the EMT website. 
BUS - TO OTHER PLACES
Malaga Bus Station is located on Paseo de los Tilos in the South East of the City. For information on bus services in and out of Malaga see our bus homepage. For more information on services from Malaga Bus Station see our Bus Station page. It is possible to travel from Malaga Bus station to the Sierra Nevada Ski Resort.  See our getting there section.
Hop-on Hop-off tourist Bus around in the City of Malaga
A great way to get your bearings around Malaga City and to take in the best sights in the process is to go on the Offical Tour bus. It's easy to spot since it is the only red double decker with open roof bus you are likely to see in this part of the world. Your ticket is valid for 24 hours, so you can stop off along the way and carry on the tour later.
There are 14 stops on the Red route served by the red double decker bus running 10.00 to 19.00 every 20 to 30 mins taking 1hr 20min to complete the circular route.  With multilingual commentary through headphones, you see the sights while hearing Malaga's history. You'll see the Port, Malagueta Beach, the Bullring, Gibralfaro Castle, Picasso's birthplace, the Alcazaba and the Cathedral (and more).
The ticket also allows you to take the Green bus from the Main Bus Station and gain free entrance to the stunning Botanical Gardens Finca la Concepcion on the north side of the city. (Gardens close Mondays).
There are 5 stops on the Green route served by the green micro bus running 11.00 to 19.00 every 75 to 30 mins taking 30min to complete the circular route.  There is no commentary on this bus.
Red Line Route
Train Station & Vialia shopping centre - Contemporary Art Center - Port of Malaga - Plaza de la Marina - Paseo del Parque - Centre Pompidou Málaga - Paseo de la Farola - Playa de la Malagueta beach - Plaza de Toros - Castillo de Gibralfaro - Basílica de Santa Maria de la Victoria - Plaza de la Merced & Picasso birthplace - Museo Carmen Thyssen & Cathedral - Avenida Andalucía - Train Station / Vialia shopping Centre.
Green Line Route
Bus Terminal - Train Station & Vialia shopping centre - Automobile Museum - Botanic Garden - Málaga Football Club Museum and Stadium - Bus Terminal.
Hop-On Hop-Off Bus in Malaga
Tickets for Hop-On Hop-Off Bus in Malaga
Car hire
More visitors rent cars in Spain than any other European country and a hefty percentage of these are in Andaluci­a. Car rental in Spain is the cheapest in Europe due to the strong competition and Malaga car rental is no exception.With Malaga as the unofficial capital of the Costa del Sol it is relatively easy to hire a car there. The main places to hire cars from in Malaga is either the Airport or the Train Station, they offer a wider variety of choice and prices from a variety of companys, you can find the cheapest ones by searching on our car hire pages.
However there is also the opportunity to hire a car whilst in Malaga city centre, in case you wish to take some trips around the rest of Malaga province, or Andalucia.
Car Parks
There are a number of 24 hour underground car parks operated by a town hall company in key locations. The cost is about 2.50 euro per hour and max about 20 euro per day. One is called 'Marina' opposite the port entrance at the east end of Alameda (east of Aveneda de Andalucia for those entering from the Motorway from the west). Another is called Alcazaba between the road tunnel and Plaza Merced. A number of private city garages operate parking for about 1.50 euro an hour. To the west of the river and city centre entering by Avenida Andalucia there is parking under the Corte Ingles (closes at 22.00hrs) and under the NH Hotel. Just east of the river in the Soho district is Parking Alemania which is next to the CAC with entrance on Calle Alemeda Colon West of the city centre the railway station has a large underground car park costing about 1,85 an hour, max 18 euro per day and which is free for 15 mins (plus 15 mins to get out).
Street Parking
There is little street parking available in Malaga city especially during the working day and Saturday morning.  If you are lucky enough to find  a space,  marine blue road marking tell you the space is part of the town hall's SARE pay and display system. Find a machine nearby. Cost varies on location but is about 1 euro per hour. If you overstay you can annul the excess charge at the machines as well. 
Taxis
There are many taxi ranks scattered throughout Malaga city. Here is a map of Taxi ranks, and if you are not near to one of these, you can hail a passing taxi from the road, look out for the green light on the roof ti inducate it is for hire. Travelling in Taxi's can be expensive, but if you're going a short distance it can save time and energy. The minimum taxi fare is 3.17€ in Malaga city. Band 1 fares of 0.58€ per km apply weekdays 06.00hrs to 22.00hrs and Band 2 fare of 0,70€ per km apply 22:00 hrs to 06.00 hrs weekdays, Saturdays Sundays, Public Holiday s, Holy week and August feria week. Priced updated October 2015. All Malaga taxi must accept credit card. A more comprehensive explantion of the Malaga Taxi fares is found on our Malaga Airport Taxi fares page.
Destinations