Muelle Uno
By Morwenna Francis
With modern shops, restaurants and bars bordering one side of the central orange tree-lined promenade and exclusive yachts flanking the other, Muelle Uno is not your average shopping complex. The waterfront open-air mall offers a contemporary shopping and dining experience by the sea, with stunning views of La Alcazaba to remind you of the city's Moorish past.
As the name suggests, the recently redeveloped Muelle Uno area ('Quay One' in English) is located in Malaga Port. After 13 years of planning and negotiations, an 80-million-euro budget, and with over 400 new jobs created, Muelle Uno was officially inaugurated at the end of November 2011.
SHOPPING
Muelle Uno boasts a wide range of shops selling clothes, accessories, cosmetics and home decor.
The complex boasts an impressive array of shops, with over 30 outlets selling everything from clothes, shoes and accessories, to cosmetics, handmade jewellery and home furnishings. Offering far from the usual high street shops, Muelle Uno is the place to go if you're looking for something a little different, such as the modern and original home decorations at Mandragora or the elegant fashions at Etxart & Panno. Many well-known brands are represented, such as Helly Hansen at Nautilus and Lacoste, as well as high street names Deichmann, Kiko and Primo. Additionally, and more practically, the complex has an optician (handy for visiting cruise passengers who need an emergency prescription) and several phone shops.
For those who love markets, the monthly zoco at Muelle Uno, which takes place on the second Sunday of every month, has nearly 100 stalls selling handmade crafts and jewellery, vintage and children's clothing, home decorations, organic foods and locally-produced olive oil and meats. See our markets page for more information about markets in Andalucia.
BARS
When you need some refreshments, head along the promenade to the bars and restaurants where international cuisine will take you around the world. Get a taste of Japan at Mikado, be transported to Italy at Il Forno Romano or try Marisqueria Godoy for some local Spanish seafood, to name just a few. If Michelin stars are more your thing, one-Michelin-starred chef Jose Carlos García's Café de Paris takes pride of place on the Muelle Uno waterfront.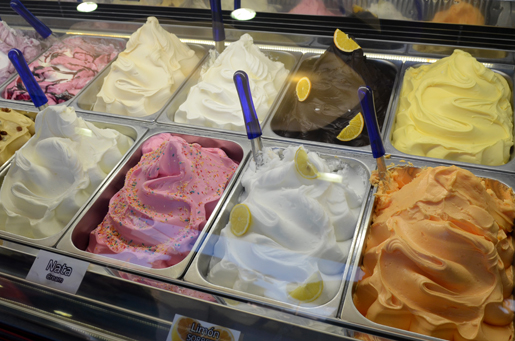 Bars and restaurants abound at Muelle Uno, including several ice cream outlets.
For those looking for a quick thirst-quencher and a snack, try the cervecerias -La Sureña has a bucket of five small bottles of beer is just 3€. For wine drinkers, the Bodega Quitapenas will satisfy your thirst.
Also not to be missed are the contemporary wooden kiosks (located near the children's areas, see below) that house an ice cream parlour and several bars, so you can enjoy the sunset over the port with something cool in your hand.
For more restaurants at Muelle Uno and in Malaga, see our Malaga restaurants page.
FOR CHILDREN
If you're spending the afternoon at Muelle Uno and have young children that need entertaining, then head to Popyn Park. The children's play area offers a soft assault course, mini-golf, soft play mats and an area for sports games. Open 10.00 - 22.00, Monday to Sunday.
On Friday evenings and at the weekend, Club Infantil Glu Glu is open, a children's club that runs free educational activities for 4 to 12 year olds, led by education professionals and specialists. The clubs has a timetable of craft workshops, storytelling sessions, board games, theatre groups, sports activities and much more. Open Friday 18.00 - 21.00; Saturday, Sunday and Bank Holidays 12.00 - 14.00 and 18.00 - 21.00. It opens later in the evenings during the summer months.
ACTIVITIES
If you're feeling a little more adventurous, why not hire a bike for the afternoon? Located in one of the kiosks, QQ bikes rent electric bicycles by the day, half-day or hour, depending on how far you feel like venturing along the coast. They also have a selection of Segways which can be rented by the quarter-hour for use around the port area. Additionally, the company runs guided tours of the area by electric bike and Segway. Tours must be booked in advance.
If you would rather see Malaga from the water, there are boat trips out into the bay throughout the day and during the evenings. The trips last for an hour and run from 12.15 until the last boat at 18.30.
Boat trips
For a selection of catamaran boat trips and sunset cruises see our Malaga Boat trips page.  
OPENING HOURS
Shops: Mon - Sat: 10.00 - 22.00
Restaurants: Mon - Sun: 12.00 - 00.00 (Consult individual restaurants for opening hours)
Management office: 09.30 - 14.30 and 16.00 - 19.00 (Tel: 952 003 942)
PARKING
The complex houses a large underground car park which is open 24 hours a day, seven days a week. The parking tariff is pay-per-minute (0,05 €/min for the first 30 minutes; 0,006 €/min from 31-60 minutes; 0,03 €/min after the first hour); subscriptions are available, as well as discounts for selected Malagueños who work, study or are members of a club nearby.
It is worth noting that Muelle Uno is very close to the city centre, only five minutes from Calle Larios, the main pedestrianised shopping street in the centre of Malaga. Driving and parking in the city centre is difficult, with no street parking, so Muelle Uno is an ideal place to park when visiting Malaga centre.
Destinations