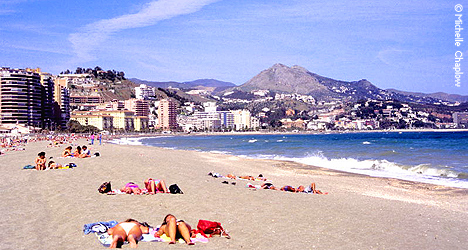 Continuing on from Torremolinos beaches.
Beaches in Malaga City
Malaga City has much to offer a tourist, not only is it the cosmopolitan capital of the Costa del Sol it also has kilometres of beautiful sandy beaches. The beaches are all situated along the Promenade of Pablo Ruiz Picasso which is lined with bars and restaurants where you can sample Malagueño produce and culture at its best. Malagueta and La Caleta are the busiest beaches.
All beaches are accessible via the Nº 11 Bus from Paseo del Parque.
El Palo
This beach is family friendly, the shoreline has been reconstructed to maximise the space, and improve the beach area. Facilities include: showers, bins, bar restaurants, parking and a public telephone. Sunbeds and parasols are available to hire. It is accessed by the promenade. It is a very popular beach for diving and fishing. Restaurants offer locally sourced fresh fish.
LAS ACACIAS - PEDRALEJO
This beach is clean and family friendly. It is a Blue Flag beach. Facilities include: disabled access, hire of sunbeds and parasols, showers, first aid point, life guard, warning advice bins, parking, public telephones, and a childrens play area
BAÑOS DEL CARMEN
This beach is situated on the Seafront of the city. It is a small beach, found along the Promenade of Pablo Ruiz Picasso. It´s facilities include: Bins, Parking, and Chiringuitos (beach bars). It is a popular fishing beach as there is a slight promentary. It is the location of the 1933 Baños del Carmen bathing pavilion and restaurant.
La Caleta
This beach is adjacent to La Malagueta, it is 1km long and paralell to the high rise flats of Malaga City, it is fully accessible for wheelchair users. Facilities include: First aid centre, hire of parasols and sunbeds, showers, W.C, Parking, Pedalo hire, warning advice and a public telephone. This beach is famously very clean.
La Malagueta
This is a very large man made beach, it is accessed via the Pablo Picasso promenade whose bars and restaurants are busy day and night. It has a view of the fishing area where you can see the fisherman untangling their nets. There are a number of Chiringuitos offering a selection of drinks and Tapas. Facilities include: disabled access, warning advice, hire of sunbeds and parasols, parking, public telephone, showers, W.C and a children´s play area. This beach is the closest to the city centre located to the east of the port.
playa san andres 
This long 2km beach lies to the west of port and the mouth of the river Guadalmar. It can be seen miles away for the tall chimneys of the old sugar factories. Backed by a promenade and seafront highway. Ample number of beach bars, Dubious distinction of location of the execution of Torrijos and Boyd and fellow revolutionaries in 1831.
San Julian Guadalmar
This beach is backed by a Golf Course belonging to the Parador Malaga Golf Hotel and sits right under the Airport flight path. It is close to the Guadalmar Uranization. It is an official Malaga nudist beach, and frequented by mixed bathers. Facilities include: showers, off road parking, beach bar and a public telephone.
Next: Nerja Beaches >
Destinations