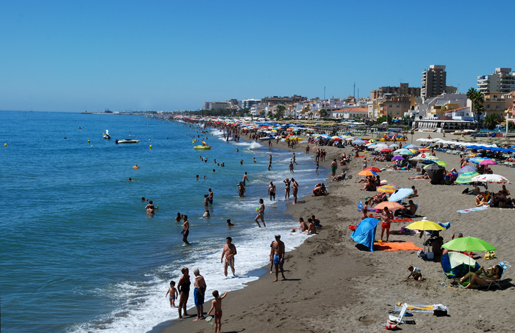 La Carihuela, Torremolinos.
Continuing on from Benalmádena beaches.
There are six main beaches in Torremolinos (west to east): Montemar, La Carihuela, Bajondillo, Playamar, Los Alamos, El Saltillo. The 7 km long promenade has undergone improvements with additional landscaping and wider pavements. All the beaches are linked by the promenade which forms part of the Malaga Coastal path.
El Saltillo and Montemar
The seafront promenade, extends west behind the expansive and popular beaches of Montemar and El Saltillo right up to Benalmadena Marina. This is the area also known for its excellent seafood restaurants and chiringuitos (beach bars).
Playa Carihuela
La Carihuela is a favourite and offers pleasant sea views and some dramatic rock formations, plus the old fishing village of La Carihuela which is a delightful area of picturesque simple houses and bourganvillea clad patios where old men play dominoes and drink anis.
Headland of Castillo de Santa Clara
Castillo de Santa Clara was built on the headland that devided the beaches of Torremolinos. The Castillo no longer exists. The promenade was constructed around the headland in the 1990s to join the beaches.
Bahaondillo Beach
Flanked by massive hotels, apartment blocks, bars and restaurants, this area is packed during the summer. Playa de Bajondillo gives way eastwards to the beaches of Playamar and Los Alamos.
Playa de Bajondillo, Torremolinos.
Los Alamos
This is the quieter end of the beaches of Torremolinos. The further you walk east the quieter the beaches become. The beach area of Los Alamos is thriving and vibrant, and 20,000 danced the night away at the first Los Alamos Beach Dance festival in summer 2015. The event moved away due to complaint from the neighbours.
At this point, about 50m before the road turns inland the constructed promenade ends and becomes a track. This is the boundary with Malaga municiapal district. Torremolinos used to be part of Malaga in September 1988, Torremolinos was segregated from Málaga and became a town again in its own right.
Playa de Campo de Golf
This beach is backed by the first Golf Course to be built on the; later to be named Costa de Golf. Golf Course belonging to the Parador Malaga Golf Hotel and sits right under the Airport flight path. The beach here is aslo called playa San Julian after the little village nearby.
Playa Guadalmar
At the eastern end of Playa de Campo del golf is Playa Guadalmar which is the official Malaga nudist beach, and frequented by mixed bathers. Facilities include: showers, off road parking, beach bar and a public telephone. 
Next Málaga Beaches
Destinations