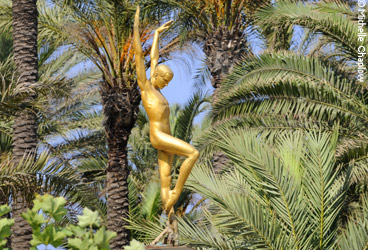 Torremolinos gay Scene
by Tony Bryant
Torremolinos has long had a vibrant gay scene and it has always been one of the most openly gay-friendly towns in Spain.  
Even during the years of dictatorship, the town flourished as a destination for the liberally minded and the animated gay scene thrived at a time when Franco frowned on blatantly non-Catholic activities.
Today, the gay scene is even more flourishing than before and it is fast becoming the most popular choice for GLBT tourists to spend their summer vacations.  
Of all the towns on the Costa del Sol, Torremolinos is the most famous for its variety of gay bars and clubs. There are also gay hotels, travel agents, hairdressers, clothes boutiques and even a gay sauna.
Most of the gay scene in Torremolinos is centered on the Plaza La Nogalera, but it is not limited to this iconic part of the town.
One will find gay-friendly beaches in Playamar and Bajondillo. Along this stretch of golden beaches are numerous bars, cafes and chiringuitos aimed at the gay tourist, one of which is Poseidon.
Destinations