Dare to ride the Boomerang at Aqualand Torremolinos.
Aqualand Torremolinos
Numerous water rides and slides catering to all tastes, from the adrenaline junie to the gentle wallower in need of relaxation. Take your pick from the new rollercoaster-like boomerang, the highest kamikaze in Europe (22m), Super Slalom, rapids, and Black Hole, plus a wave pool and jacuzzi. Also children´s area with wide, safe slide and spa circuit-like showers.
Opening hours: May, June, September 11am - 6pm
July and August 10am – 7pm
Tickets: Adults: 26.00 euros, Children (aged 5-10): 18.50 euros, Mini (aged 3-4): 10.00 euros (2 euro discount when you book online)
C/ Cuba, nº 10 29620 Torremolinos (MALAGA)
Tel. 952 38 88 88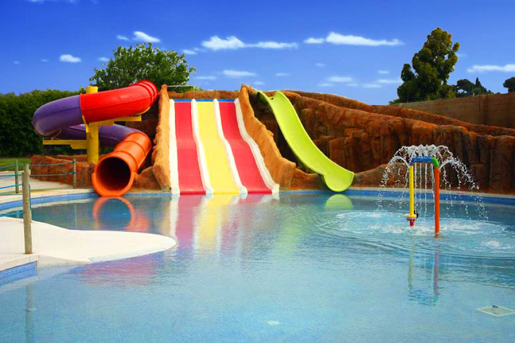 Aqualand Torremolinos has plenty of slides to choose from.
Rainbow slides at Aqualand Torremolinos.
Water Park Entrance in Torremolinos
Water Park Entrance in Torremolinos
Destinations