Torremolinos - Apartments
By Philipa Sudron and Holly Penny
Torremolinos: where the Costa del Sol tourism boom really exploded. Just a couple of miles to the west of Malaga airport, and with one of the coast's better urban beaches, it isn't hard to see why. If the town's party-hearty reputation has relaxed a little in recent years, giving way to many family holidaymakers in the summer and older visitors looking for some winter sun out of season, it's still a lively resort town where entertainment is never far away both day and night.
With regards to places to stay, it's obviously not short of options. Larger hotels are plentiful along the beach-front and its grand promenade, the Paseo Maritimo, while there are also any number of great value guesthouses and holiday apartments in Torremolinos to rent. Back from the front-line, more Torremolinos apartments, houses and villas line the quiet residential streets to the north of the town.
APARTMENTS IN TORREMOLINOS

Apartamentos Carolina
Located within 30 metres of La Carihuela Beach, all apartments have a balcony. The Apartamentos Carolina studios face directly onto the beach, and have sea views. Accepts children and pets, perfect for families.
Apartamentos Don Pepe
Set on the beachfront at Carihuela Beach, 15 minutes' walk from the centre of Torremolinos, Apartamentos Don Pepe offers air-conditioned apartments with free Wi-Fi and free parking. Staff speak English.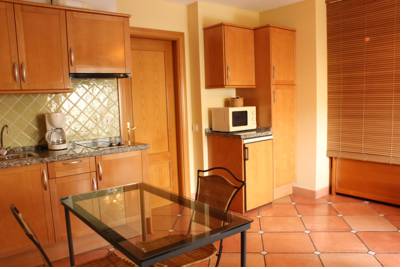 Apartamentos Flores
Set a 1-minute-walk from the La Carihuela Beach in Torremolinos, Apartamentos Flores offer air-conditioned studios with free Wi-Fi and a flat-screen TV. Some studios have a balcony or terrace.

Apartamentos Alegría
These apartments are located next to La Carihuela Beach in Torremolinos. There is a roof terrace with loungers, and the apartments come with a private balcony and a coffee-maker.
Apartamentos Candisol
Apartamentos Candisol offers air-conditioned studios, apartments and lofts 350 metres from sandy Playa del Bajondillo Beach. Free Wi-Fi is provided and a public parking is available nearby.

Apartamentos Bajondillo
The beachfront Apartamentos Bajondillo in Torremolinos have an outdoor pool and free Wi-Fi. They offer a wide range of entertainment, and a free airport shuttle.

Sol Timor Apartamentos
Located in the Montemar area of Torremolinos, the Sol Timor Apartamentos are surrounded by gardens and set just 200 metres from the beach. They have a large outdoor swimming pool.

Apartamentos La Nogalera
These apartments are well-located in the centre of Torremolinos and just a short walk away from the beach. The complex boasts 2 swimming pools as well as a children's pool.

Apartamentos Nucleo Cristal
The modern Apartamentos Nucleo Cristal are just 100 metres from Carihuela Beach. The complex is equipped with a large outdoor swimming pool, tennis court and on-site supermarket.

Apartamentos Ecuador Park
Situated just 100 metres from La Carihuela Beach, these apartments are set around an outdoor pool. Each simple apartment has a private balcony and is located within a 10-minute walk of Puerto Marina. Facilitates disabled guests.

Apartamentos Villa Livia
Situated in the heart of Torremolinos, only 600 metres from the beach, Apartamentos Villa Livia features a rooftop terrace with sun loungers. All apartments have balconies. Pets not allowed. Cash payments only.
Destinations