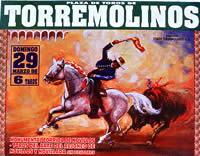 Bullfight in Torremolinos
Traditional Festivals in Torremolinos
Like all the towns in Andalucia Torremolinos celebrates numerous traditional festivals. Here are some of the more important.
See our festival page for more background information on these festivals.
Carnivals (February)
Holy Week (March)
Crosses of May, (early May)
Corpus Christi (June)
Saint John's Eve (23 June)
Virgen del Carmen (16 July) Celebrated in La Carihuela
Romaneria (end September)
Summer Feria centers around Saint Michaels day (September 29) the towns patron saint.
Contemporary Festivals
The Day of the Tourist (end Sept) is a more moderate but equally important concept. The town hall will organise free events such as entertainment and the cooking of a huge Paella.
An important annual event in Torremolinos is the Spanish Ballroom Dancing Championships which takes place in October in the Congress Palace. Mr and Mrs Banderas (Antonio's parents) took a great interest, they won one year.
Rockin' Race Jamboree is a festival which has been running more than 30 years features about 40 rockabilly, blues, surf, and boogie-woogie bands from Europe, and USA. Takes place in several venues in Torremolinos including the Principe de Asturias auditorium in early February. More info>
Traditional Festivals in Andalucia
Destinations