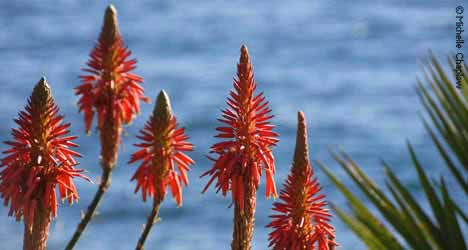 Benalmadena Beaches
From Fuengirola Beaches
Take me to: Benalmadena Hotels
Benalmadena Costa also has almost 10 kilometers of beach to chose from. From the quiet cove, to the family focused beaches with plenty of activities. The beaches are a mixture of man-made, golden sand and shingle, all are generally well maintained and clean.
Carvajal Beach
Carvajal Beach is a favourite family beach and usually very busy, with plenty going on. There are many beach bars and beach activities and amenities to hand. It is just off the main A7 highway, and accessible also by train to Carvajal. It is dominated by many high-rise buildings and is also close to shops and restaurants. It is at the start of the Fuengirola/Los Boliches.  Its high standards of cleanliness and excellent facilities have been recognised by the European Blue Flag award.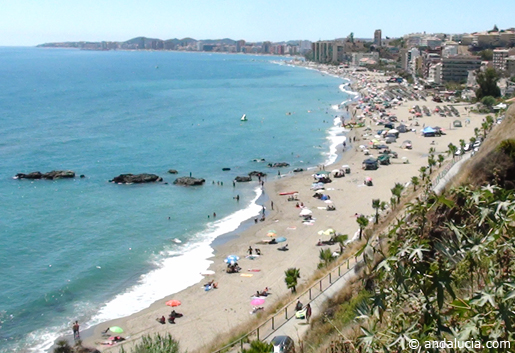 Family beach, Playa Carvajal in Benalmadena.
Malapesquera Beach
This busy beach is around 700 meters long and 50 meters wide and the promenade runs along the top, leading into the main built up area. It is beside the Benalmadena Marina area and is where the Festival of the 'Virgen del Carmen' is celebrated each year in mid July, when the local sailors pay homage to the Virgen, whose effigy leads a procession into the sea.
Due to its central location, this beach is accessible by foot, road and bus. There is car parking, facilities (including ramp) for the disabled and Red Cross presence in the event of emergencies. It is beside the Nautical Club where you can hire boats or take advantage of the many water sports facilities. There are sunbeds and parasols for hire as well as beach showers.
Its high standards of cleanliness and excellent facilities have been recognised by the European Blue Flag award.
Arroyo Beach
This beach is named Arroyo de la Miel, because of its position at the foot of Arroyo de la Miel village. This is a very popular beach amongst serious swimmers. The beach has a long promenade, which runs right along to the port and the Marina.  Its high standards of cleanliness and excellent facilities have been recognised by the European Blue Flag award.
Torre Bermeja Beach
This is a beach where the whole family can have fun. Boats and jet skis can be rented out. There is even a beach football pitch set up, complete with goalposts. Whether as player or a spectator, the football adds to the lively, family atmosphere. Volleyball is another option on this lively beach. You can also try windsurfing and sailing or try your hand at fishing.
There are several beach bars and restaurants to chose from and other amenities include; car parking, sunshades and beach beds, showers, public toilets, a children's' park and facilities for the disabled.
This beach is compact (around 600 metres) and is close to the town and all its amenities.
Santa Ana Beach
A man-made wall separates the 500-meter long Santa Ana beach with that of Torre Bermeja. Santa Ana is offers many facilities; such as beach beds and sunshades, showers and public toilets, as well as facilities for the disabled. Access to the beach is easy on foot, by car or by bus. There are also many beach bars and restaurants to choose from. This is a fairly busy beach, especially in the high season, but there is parking close by. There is plenty to do, with many water sports to choose from. This beach was awarded the Blue Flag in 2012 and the Red Cross is present in case of emergencies.
Torremuelle Beach
This beach is sandwiched between the two housing complexes La Hidalga and Valdeconejos. This grey sand beach is not up to much, but its one saving grace is the beach bar - Paco, which is very popular and has many regular clients all the year round.
Arroyo Hondo Beach
Set between 'Las Viborillas' and 'Torremuelle' this beach is named after the river, which flows into the sea at this point. This stretch of beach takes in the area commonly known as the 'Hotel Costa Azul Beach'. It is very easy to reach, since it runs alongside the main road and is split into two parts, one that follows the natural line of the sea and the other, which has been regenerated to make a wider beach area. This is beach offers fewer facilities and is quieter that others in this area, especially in the mid to low season.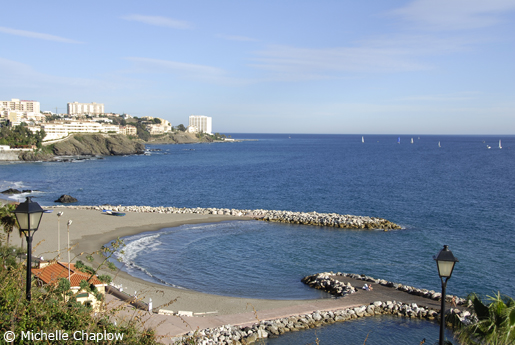 Arroyo Hondo beach in Benalmadena.
Viborillas Beach
This is a very popular beach and if you like plenty of people around you, this could be the place for you. Unlike some of the other more urban beaches along Benalmadena Costa, this one is surrounded by green vegetation.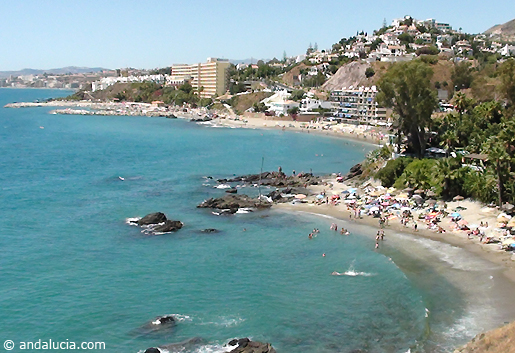 La Viborillas beach with Arroyo Hondo in the background.
Torrevigia Beach
This is a large beach in view of the Hotel Torrequebrada. It has plenty of beach facilities, such as sun beds and parasols for rent and it usually a very popular beach, particularly in high season, because there is so much space. The sand is quite course and slightly gravely. Historically, Benalmadena was the watchtower of the coast - 'Vigia de la Costa'. Today the three watchtowers remain in evidence are; Torre Bermeja, Torre Quebrada and Torre Muelle. Its high standards of cleanliness and excellent facilities have been recognised by the European Blue Flag award.
Benalnatura
For the naturists, there is a small cove and nudist beach, accessible from the A7 coast road. Driving from Benalmadena along the coast in the direction of Fuengirola, double back at the roundabout after Torrequebrada and before Torremuelle. There is limited parking in the summer. You will see a sign "Benalnatura" indicating a steep concrete path down through the trees to the beach. There is a beach bar. Naturist only.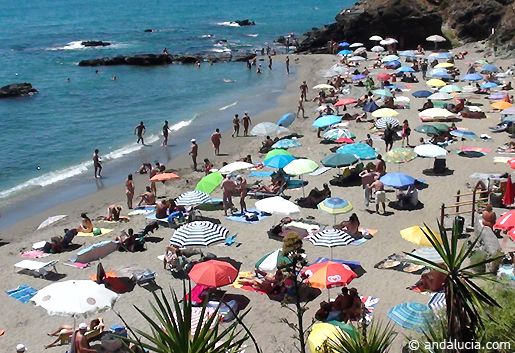 Benalnatura beach in Benalmadena.
La Perla Beach
La Perla Beach is protected on either side by large man made walls of stone. Access to the beach is through the large La Perla apartment building. It is usually quieter than in the other surrounding beaches.
La Morera Beach
This beach is frequented mainly by locals, as well as by young people who often camp out here too. Large family groups of local people usually set up for the whole day, cooking their own food and making their own entertainment. If you're looking for quiet seclusion, this would not be your choice of beach. If you want a taste of real Andalucian family beach life, then this is for you.
Tajo de Soga Beach
This is a quiet and more secluded beach and if the first of a series of smaller beaches. There are fewer facilities but it has an altogether more tranquil atmosphere.

Next: Torremolinos beaches > 
Destinations