Benalmadena Marina
Take me to: Benalmadena Marina Hotels
Benalmadena Puerto Marina rates amongst the best in the world, proof of which is the fact that it is several times winner of the 'Best Marina in the World' award. With 1,100 moorings for boats of all nationalities and up to 6 meters long, Benalmadena Port - 'Puerto Marina' is one of the Costa del Sol's busiest centres by day and night. For the energetic, the nightlife carries on in sophisticated bars and clubs.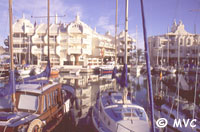 Latitude: 36* 36'N - Longitude: 4*31'W - VHF: CH9 & 16
Harbour Entrance width: 180m depth: 5m
961 Moorings, 6 - 30m deep
By day you can visit the Aquarium, hire a boat, partake of numerous water sports, including; sailing, scuba diving, kayaking, water skiing. The Marina's Centro Náutico was built and set up to provide a place in the Marina where sailing enthusiasts could meet up and hold sporting events and also to meet socially. The centre has social and formal meeting rooms, a fine restaurant, commercial units, and shops selling sailing equipment.
The Marina has a beautiful beach area with beach beds and parasols for hire. The situation and overall architectural design makes this port one of the most attractive places of its kind. Since 1987 it has continually been awarded the European Blue Flag for its excellent service and clean waters.
Alternatively take a stroll through the busy port, with its many shops, while choosing from the vast variety of restaurants and bar for some lunch or dinner. For those who want to try out the Spanish 'tapas' there are at least 20 little terrace bars choose from, where you can sample many types of fish and other delicacies, while soaking up the atmosphere of the port and looking out over the Mediterranean or at the fabulous selection of boats in the harbour. It is certainly one of the liveliest places to dine, so close to luxurious yachts and the twinkling Mediterranean.
A favourite attraction at the marina is the Mississippi Willow, a beautifully restored American paddle steamer. It is now a floating bar and restaurant. A lovely way to see the port is hop on the Mississippi for an afternoon cruise around the bay, or wait until later in the evening when it livens up for party time.
Dolphin Trip - Benalmádena
Dolphin Trip - Benalmádena
Enjoy unique and impressive views of the Alborán Sea and the Costa del Sol. Setting sail from Puerto Marina in Benalmádena, don´t miss out on the fantastic experience to see dolphins in their natural habitat. We have 82% success in sighting. When choosing a tourist boat with Blue Flag, it contributes to the sustainable development of the marine and aquatic environment, they are boats that promote the environmental education of our users and ensure that our activities have a low environmental impact.