RESTAURANTS IN BENALMADENA
Benalmádena Costa is one of the most cosmopolitan areas on the coast and famed for an abundance of British bars and restaurants. The heart of the resort is the extensively equipped Puerto Marina and here one will find dozens of restaurants and bars serving food from all corners of the world. One will be spoilt for choice in the Marina, there are steak houses, pasta and pizza trattorias and noodle bars commingled with traditional fish and seafood restaurants.
Puerto Marina
Jack's American Brasserie. Established in 1998, the restaurant serves burgers, steaks, ribs, chicken and deliciously fresh salads. They also have an extensive vegetarian and gluten-free menu.  The spacious terrace looks out over the port and its stock of luxury speed boats and yachts, while the interior is decorated like a traditional American diner.  The menu includes breakfasts, fajitas, pizzas, hotdogs and southern fried chicken; however, it is renowned for its selection of succulent chargrilled steaks.   The brasserie holds a wide selection of draught and bottled beers, as well as an amply-stocked wine cellar. Group bookings are excepted and special set menus for parties and celebrations are available. Open every day from 10.30 am until 11.30pm.
Angus Argentinian Steak House  serves char-grilled steaks, Iberian pork products and an excellent selection of Argentinian and Spanish wines.
El Mero Los Mellizos, has an outside terrace dining area overlooks the harbour and offers stunning views during sunset. The interior is elegantly designed with a traditional Mediterranean décor. The menu is extensive and includes fresh anchovies, clams, mussels and oysters, as well as the area's celebrated fritura malagueña, a mixture of deep fried fish and seafood.  The menu also offers a variety of rice and egg dishes, like the tempting lobster paella, or scrambled eggs with salmon and king prawns.   As well as an extensive wine list, the restaurant also offers a tempting dessert menu. Open seven days a week from 1pm until midnight.
For a truly Spanish flavour one should head to Toro, famous for Manchego cheeses, Bellota hams, cold Andalusian soups and its delicious rabo de toro (oxtail). The restaurant, which has received Trip Advisers 'certificate of excellence', has a special tasting menu for around 35 euros and also offers several 'to share' options.
Gringo's Tex Mex, and Coast, which serve a varied menu from spiced Moroccan lamb, to grilled sea bream and a traditional Sunday roast dinner. La Parolaccia is a popular  pizzeria and creperia, serving classic Italian pasta dishes, savoury pancakes and homemade pizzas, while those preferring Asian cuisine should try Sakura, a large oriental eatery that's menu consists of Thai, Chinese and Sushi dishes.
If you are heading to the marina for lunch or dinner, you might like to take a pre-meal drink in Boal's Ice Bar, advertised as 'the coolest bar in Spain. This novelty pub is sculptured out of more than 80 tons of ice and holds a temperature of -18C, so it's a good place to cool down (although not for too long!) after a hot day on the beach.     
Beach front
The beach front is lined with chiringuitos offering sardines grilled over open fires, paella, meat, and freshly caught fish - often the day's specialty.  Some of these establishments are more up market, one should remember that some of the fresh fish prices will be offered by weight. The chiringuitos mostly offer a similar menu, but prices can vary immensely. 
Avenida Antonio Machado
The main road (Avenida Antonio Machado) that runs through Benalmádena Costa is lined with dozens of British bars and cafés, mostly serving traditional cuisine, from the full English breakfast, to homemade pies, fish and chips and a pint of John Smiths.
Plaza Sol Y Mar
Plaza Sol Y Mar (the most central part of Benalmádena Costa oposite the entrance to the port) is rather ugly and has several restaurants offering noodles, sushi, kebabs and burgers. There are, however, a few hidden treasures to be discovered as one heads away from the main square, and these picturesque areas conceal a traditional Andalusian ambience, and stunning views of the Mediterranean.
Plaza Ole
Tucked away in a quiet corner just a few minutes' walk from the port, the Plaza de Olé offers visitors a chance to recuperate under the shade of palm trees while admiring traditional Spanish architecture. This tiny square has a trickling central fountain, around which one will find a multitude of cafes and restaurants. These include Pizzeria Papa Luigi, a popular and long-serving Italian restaurant; and Érase Una Vez, a modern style eatery with international cuisine and a stylish wine and cocktail list.
La Taberna, one of the area's oldest taverns, is found as one enters this delightful plaza. The family-run restaurant has been serving tourists and locals for almost 30 years. It is decorated in typical Andalusian style and serves traditional Spanish cuisine. It has become popular for a three-course set menu, which costs 14.50 euros, while specialties of the house include mussels marinera, seafood casserole and grilled chicken in garlic sauce. They hold an extensive wine menu, including those from local Andalusian vineyards, to those of Rioja and Ribera de Duero. Open seven days a week from 6pm until 11pm.
There are several cosy bars where diners can relax after their evening meal and these included Buddy's, a welcoming pub offering both Spanish and international beers; and Ohara's Irish pub, which offers a decent pint of Guinness.
Las Gaviotas
Just a five minute walk from here, in the direction of Castillo El Bil Bil, one will discover Las Gaviotas, a small, two-level cove famed for its tapas bars and beach-front restaurants. The area is accessed from the beach or the main road and consists of several popular alternative tapas bars. These benefit from the fact that they are run by different nationalities, hence the menus vary considerably. Although the area boasts several traditional Spanish tapas bars and restaurants, it is worth trying some of the others,
The Bacchus Terrace serves fresh tapas with an Italian twist and offers a good selection of vegetarian dishes, like tempura vegetables and pears with walnuts and blue cheese. With a price range of two euros for a tapa and ten euros for main courses, this inviting eatery has become known as one of the best pasta houses in the area. The owner is renowned for his knowledge of gins and the restaurant stocks many varieties: there is also a good selection of fine Italian and Spanish wines.
South Beach Resto Bar presents a tapas and evening meal menu with a South American theme. This large-terraced restaurant has one of the best views of the marina and it has built its reputation by serving quality food, while receiving continued appraisal for the excellent customer service.  The menu is different and extensive and brings together Peruvian, (the owner lived in Peru for many years) and Spanish cuisine.  The tapas menu, which includes Peruvian chicken croquettes, beef in wine stew and an extra spicy, sizzling prawn pil pil, offers three dishes for six euros.
Lime and Lemon is a fresh and unique restaurant and gastro-bar that is a favourite with locals and tourists alike. Situated on the lower level of Las Gaviotas, this restaurant prides itself on fresh local produce and an innovative Mediterranean style menu that includes vegetarian and glue-free dishes. The restaurant has a good reputation and is extremely busy during lunch hours, so booking is advisable to ensure a table.
Also on the lower level one will find Mare Nostrum, a large, well-established Spanish restaurant that specialises in local cuisine dominated by fish and seafood. It is also renowned for paella and platos combinados, which includes anything from egg and chips to pork chops, roast chicken and grilled sardines.      
One of the more unusual establishments in this area is the London Café, which is found on the main road as one leaves Las Gaviotas. This London themed café bar serves breakfasts, tapas, and traditional pub food. The interior is decorated like a London tube station and is popular with British holiday makers who are in need of a few home comforts. There is a large terrace with separate cocktail bar that is ideal for unwinding before or after your meal. A large selection of beers, wines and spirits are available.
La Bodeguita is another must visit restaurant on this stretch of the main road. A family run traditional Spanish tapas bar and restaurant, La Bodeguita has built its reputation on innovative dishes, an extensive wine selection and excellent service. Specialties include snails, homemade guisos (stews) and the classic seafood paella. There is also a menu del dia available for 10 euros. Closed on Sunday
Windmill roundabout to Hotel Balmoral
On the main road from the 'windmill roundabout' (Rotunda de los Molinos) down to the Med Playa Hotel Balmoral, one will discover the area of Benalmádena Costa that has been favoured by the British since the 1980s. Most of the restaurants and cafes are situated on the main road and include American burger franchises, and Chinese, Italian and Indian eateries. There is also an abundance of British bars that all offer similar menus consisting of home cooked snacks, lunches and evening meals. Two of the most popular, and certainly the longest serving, British bars are Shakespear's and the Last Resort, both known for good quality home-cooked traditional British fayre.
One of the most popular and longest established Spanish restaurants at the far end of Benalmádena Costa - in Calle Las Yucas, off Avenida de las Plameras- is Restaurant Carnival. This beautifully decorated fish and steak house is one of the areas hidden treasures, serving high quality dishes like chateaubriand, lamb cutlets, the freshest seafood and exquisite deserts. The wine list is extensive and offers a good selection of wines from various regions of Spain. With an average price of 40 euros a head, the restaurant offers quality for money and a service that befits it. The restaurant is open from 1pm until 11.30pm. Closed on Wednesdays.
A special place is set aside for American food in Benalmadena thanks to the delicious offerings of Jack´s American Brasseire. A restaurant with a truly American style, it also offers stunning views of the port.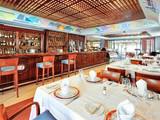 El Mero
A restaurant which specialises in fish and seafood. It serves lunch and dinner. (Credit cards accepted)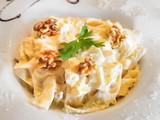 Pasta Fresca
All the pastas here are handmade. The restaurant prides itself on premium ingredients which are rigorously selected to create exquisite recipes from all over Italy. This chain of restaurants has two establishments in the same street: Avenida Antonio Machado, 700 meters from each other. Make sure you show up at the place where you made the reservation.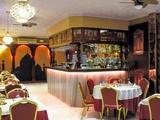 Indian City
If you like to discover new cultures and cuisines Indian City is the ideal place for you. Here you can find the best Indian food served in a traditional atmosphere, accompanied by attentive service to ensure an enjoyable eating experience.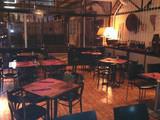 Il Boccaccio
The presence of Il Bocaccio restaurant in Benalmadena brings a delicious and refreshing take on Italian food. Il Bocaccio combines authentic Andalusian products with the popular Italian recipes to deliver a fantastic food pairing.
More restaurants
Escorpio Restaurante - La Fonda Hotel
This restaurant is located in the La Fonda hotel and specialises in fish and meat dishes. There is also an extensive wine list. Enjoy views over the Mediterranean whilst fine dining. 
Santo Domingo de Guzmán, 7. Benalmádena
Tel: +34 952 569 047. 
El Cordero
This is a great option if you want value for money. Expect big portions and quality food at a reasonable price, including fresh seafood paella. Friendly staff. Closed Sunday. Open 6-11pm
Plaza Bonanza. Benalmádena
Tel: +34 952 447 789

The Bull Bar
Renowned for its spectacular breakfasts, the Bull Bar serves a mixture between traditional British meals and Spanish food, including fish & chips and tapas. Open Mon-Sat from 11am. Sunday 12-9pm.
Av del Chorrillo, 15. Benalmádena. Tel: +34 646 569 374. 
Restaurante La Fuente
Set in the beautiful Plaza de España, this restaurant offers a European menu including some Spanish classics. Expect good things. Closed Monday. Open 12-4pm and 6-10pm.
Plaza de Espana No 9 | Benalmádena Pueblo. Benalmádena
Tel: +34 952 569 466 

Palm 5 Beach Bar
A small restaurant offering traditional Spanish tapas and refreshing drinks, Palm 5 Beach Bar can be a good escape from the onslaught of restaurants in Benalmádena. Good quality food at good prices. Dog friendly. Open 10.30am-2am. Local 1 Conjunto Las Gaviotas | Paseo Maritime, 29630. Fuengirola. Tel: +34 674 392 064.

Taperia de Bodeguita
The perfect choice for good quality, authentic tapas and a beer in Benalmadena. A hidden gem. Closed Sunday. Open 9.30am-11pm 
Avenida de Antonio Machado Galeria la Roca 1A | Junto Al Estanco y Debajo Hotel la Roca. Benalmádena
Tel: +34 952 577 441.
Restaurants in Benalmadena
Destinations