The Paseo del Parque, Malaga.
El Parque
Malaga's city park which runs alongside the "Paseo del Parque", was created at the end of the 19th century making use of land reclaimed from the sea. The park contains beautiful tropical flowering trees and shrubs. Many of the unusual and exotic species were brought from overseas, including Cuba, when Malaga was an important world trading centre.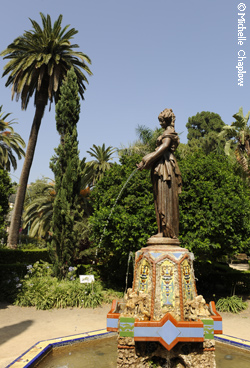 Fuente de la Ninfa del Cantaro
Every Sunday the Malaga Municipal Band gives a concert from 12 noon in the Eduardo Ocon Bandstand in the Malaga Park. These pre-lunchtime concerts are popular with Malagueños and visitors alike. One of the oldest bands in Spain, founded 141 years ago today has 40 teachers and 12 pupils from the Malaga Superior Conservatory of Music in its group and has recorded a compact disc.
Edwardo Ocon Rivas was a composer born in 1833 in Calle Pilar in the village of Benamocarra. The Auditorium was built in the 1950's and is an example of a concrete parabolic arch holding up the canopy. Nearby in the park there is also a bust of Edwards inaugurated in 1961.
Jardin de la Catedral
There are small but tidy and photogenic gardens next to the cathedral. They are popular with photographers. The cafe alongside, aptly named "EL Jardin", is a very traditional Malaga cafeteria.
Jardin El Retiro
These beautiful garden in are located a few kilometers west of malaga City near the airport in a small town called Churriana. Read more here.
Historical and botanical garden "La Concepcion"
Just outside Malaga, "Finca de la Concepcion" is another magnificent botanical garden. There are regular guided tours of the gardens which pass through exotic trees and plants, Roman sculptures and a waterfall. There is also a beautiful mansion that once belonged to the creators of the gardens, the Marquis of Casa Loring and his wife, and several panoramic view points. Find out more here.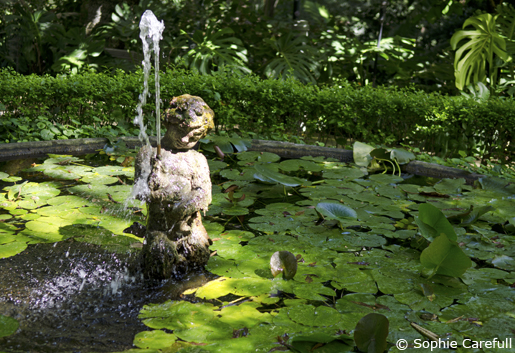 Green paradise at the Jardin de la Concepcion.
More information about Parks and Gardens in and around Malaga city can be found in our Gardens section.
For more information about Finca La Concepción read the article first published in the Andalucia Costa del Sol Magazine.

Destinations