by Lee Gutcher
Málaga city is not a popular tourist attraction despite the large amount of tourists which pass through its airport. Whilst it does not have any outstanding monuments it is an atmospheric, historical city well worth taking the time to visit.
Málaga is the second largest city in Andalucia, and also one of the poorest, which is noticeable in the outskirts of the city. But once in the centre of the city there are many quarters of the city which are a delight to explore. The people of Málaga are also famous for being amongst the most friendly in the region. The city also has a decent beach if you want to take a rest before or after you flight.
See the Málaga home page.
Arrival & Accommodation
Both the train and bus station are on the outskirts, but within walking distance of the city centre. Most attractions are within walking distance, although the Gibralfaro can be an uphill struggle when the sun is shining.
Accommodation is not a problem outside of the major holidays. The area around the cathedral offers numerous budget options.
There are no truly 'must see' monuments in Malaga, but many which are worth visiting.
The Alcazaba
The Gibralfaro
The Cathedral
Casa Natal de Picasso
The best way to enjoy Malaga is to wander its streets and soak in the atmosphere of its people.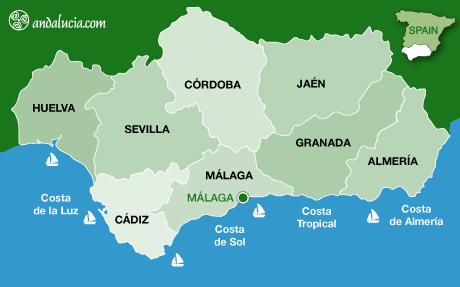 Hover the cursor over Malaga to see bigger map and click to go to the maps page.