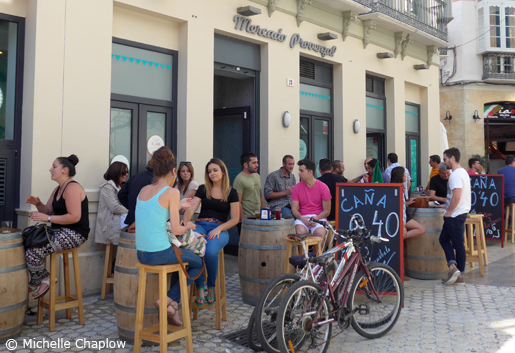 Malaga has lots to offer, whether you feel like tapas off a barrel or a three course dinner!
Restaurants in Malaga City
Boasting some of the best restaurants in Spain, Malaga attracts diners from all over the Costa del Sol.  Whether it is tapas bars, fine dining restaurants, fast food or excellent fresh fish you are after, you will find it here.  Many Malaga restaurants are situated in old houses with courtyards and patios, to create a unique dining experience.  Many of these restaurants are chic and elegant, and offer some of the most innovative food you will find in Andalucia.
One Michelin Star Restaurant

José Carlos Garcia
Located in the port of Malaga, with a contemporary design and a stunning terrace, this eponymous restaurant offers stunning dishes such as hake with beetroot and caviar gazpachuelo. Recipes can be found on his own website. Closed Sundays and Mondays.
Paseo de la Farola, 10. Muelle 1. Málaga
Tel: +34 952 003 588. 
Restaurant Listing

Café Central
With its tables spilling out onto this pretty historic square, this is an all-day dining spot. Start your day with chocolate and churros, moving on to the traditional dishes later on.
Plaza de la Constitución, 11. Málaga
Tel: +34 952 224 972. 
La Cosmopolita
This place calls itself a "guiso-bar" - it has a relaxed atmosphere and fresh, modern décor. Recommended is the salad of roast duck with roasted apples.
Calle José Denis Belgrano, 3. Málaga
Tel: +34 952 215 827. 

El Chinitas
A traditional restaurant decorated with colourful ceramic tiles, the menu here includes such local specialties as sopa viña and solomillo al vino de Málaga.
Calle Moreno Monroy 4-6. Málaga
Tel: +34 952 210 972. 

Maricuchi
This is is a typical beachfront restaurant located on Pedregalejo beach. Feast on platters of seafood, such as prawns and clams, and the famous local speciality: barbecued sardines on sticks. Also try the gazpachuelo - fish soup. Closed Modays and middle January to middle February.
Paseo Marítimo del Pedregal, 14. Málaga
Tel: +34 952 290 412. 
Manducare
This smart restaurant serves traditional Andalusian dishes with a contemporary angle, such as home-made foie with mango and banana chutney or sea bream tartare with cider vinegar.
Av. Manuel Agustín Heredia, 2-4. Málaga
Tel: +34 952 212 058. 

Méson Cortijo de Pepe
Restaurant with traditional décor. Gambas al pil-pil are a speciality of the house, as is the montadito de lomo (pork roll). There is a long wooden bar to sit at, or tables either indoors or outdoors.
Plaza de la Merced, 2. Málaga
Tel: +34 952 224 071. 

Gorki
A "wine bar which serves food", this is the original Gorki. It offers a huge range of gourmet snacks such as rolls and platters of ham, cheese and salads. Try the crispy tarts or mini-spring rolls of mortadela, aubergine and roquefort.
Calle Strachan, 6. Málaga
Tel: +34 952 220 091. 
Destinations