Serranía de Ronda
The Serranía de Ronda is studded with charming pueblos blancos (white villages) that can be visited by car in a number of delightful day trips. The dramatically positioned town of Ronda, on the Tajo gorge, has become one of the most popular destinations in Andalucia. It enjoys magnificent views over the untamed mountains of the Serranía de Ronda (Ronda Mountain Range) and the Sierra de las Nieves (Snow Mountain Range) Natural Park.
Hotels in Serrania de Ronda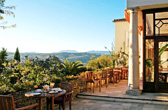 Stylish luxury country hotel located between olive and pistachio-groves just outside Ronda. This hotel features a superb restaurant with fine and informal dining. Many ingredients are locally sourced.
Moving away from Ronda there are more villages worth visiting. These might not actually be included as Sierranía de Ronda towns as they are on the east and south fringes of the mountain range, and they include such picturesque destinations as Tolox, Guaro and Istán.
There are also two more areas worth visiting further away nearer the coast which are also not strictly part of the Serranía de Ronda but are often included in guide books. South of Gaucín and less inland from Casares and Manilva are two protected areas: the Sierra Crestellina Natural Area, near the village of Casares, and the Reales de la Sierra Bermeja Natural Area. Although little visited, they offer some superb walks through dense woodland.
Villages on the River Genal (Alto Genal) (A-369 - Ronda to Gaucin)
Algatocín
Atajate

Algatocín is part of the famous Pueblos Blancos, or white villages that run through the Serranía de Ronda and dot the hills through Málaga and Cádiz provinces.

More >

The village itself is part of the White Pueblo Route and is home to under 200 people, known as Atajateños.

More >

Benadalid
Benarraba

Benadalid is a village that is working hard to develop its reputation for quality rural tourism.

More >

This hidden village can only be approached by car, along its own short but mountainous 3-kilometre road. To find the turn off, look for Gaucín on the map.

More >

Gaucín
Ronda

Gaucin, a charming whitewashed mountain village, just half an hour's drive from the Costa del Sol.

More >

Ronda is one of Andalucia's loveliest towns, steeped in history.

More >

Alpandeire
Benalauría

The village lies 694 metres above sea level on a hillside in the Genal valley, close to the source of the river.

More >

Benalauria enjoys rich natural surroundings with easy access to a wide array of outdoor sports and rural tourism opportunities.

More >

Genalguacil
Jubrique

This is one white Andalucian mountain village that art lovers will not want to miss.

More >

Most guidebooks will explain that this is a typical village founded by the Berbers in 711.

More >

Pujerra
Parauta

One of the most isolated mountain villages in the region, Pujerra has its own unique folk dance.

More >

Its eastern extremities touch on the natural park of the Sierra de las Nieves.

More >
Villages of the South East
Guaro
Istán

Guaro prides itself on its nuts: almonds to be precise.

More >

Istán is one of a number of villages of Moorish origin which owes its survival to its distance from the coast.

More >

Monda
Tolox

It is a tiny town with a population of less than two thousand, beyond Ojén along the C-337 road, crouching in a mountain valley at a height of 1200ft.

More >

Tolox is a place of much charm: peaceful for the most part, with two notably manic exceptions.

More >
Villages of the North East
Alozaina
Arriate

The village sits between the distinct geographic regions of the Guadalhorce Valley and the Serrania de Ronda

More >

Arriate is a jack-in-the-box; a surprise package in a plain wrapper.

More >

Casarabonela
El Burgo

Part of the Hoya de Málaga Mountains, this cosy pueblo offers spectacular views all the way to the coast.

More >

The mountainous town on the road between Ronda and Coín

More >

Yunquera

This village's location along the Ronda-Malaga Road has made it a historical gem.

More >
Villages of the West
Benajoán
Cortes de la Frontera

The village, 564 metres above sea level on the side of a limestone mountain, is small, but growing.

More >

In the far western reaches of Malaga province is the pueblo blanco of Cortes de la Frontera.

More >

Jimera del Líbar
Montejaque

Jimera del Líbar is an excellent destination for anyone wishing to enjoy the wonders of rural tourism in Andalucia.

More >

Lying on the western edge of the province of Málaga, above a fertile valley teeming with olive groves.

More >
Natural Parks, Areas and Monuments
Main sights
Attractions
Activities
Gastronomy
Sports
Festivities
Health and Beauty
Destination tags