Serranía de Ronda
The Serranía de Ronda is studded with charming pueblos blancos (white villages) that can be visited by car in a number of delightful day trips. The dramatically positioned town of Ronda, on the Tajo gorge, has become one of the most popular destinations in Andalucia. It enjoys magnificent views over the untamed mountains of the Serranía de Ronda (Ronda Mountain Range) and the Sierra de las Nieves (Snow Mountain Range) Natural Park.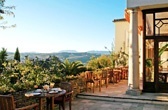 Stylish luxury country hotel located between olive and pistachio-groves just outside Ronda. This hotel features a superb restaurant with fine and informal dining. Many ingredients are locally sourced.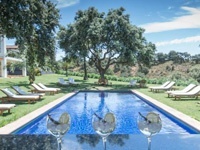 Set in the heart of Andalucia, surrounded by beautiful rolling hills. Inspired by African Lodges, this grand guesthouse resides in a 22 acre private estate. Ideal for peaceful retreats and private gatherings. Seven boutique rooms each with ensuite bathroom suitable for groups of six to fourteen guests.
Moving away from Ronda there are more villages worth visiting. These might not actually be included as Sierranía de Ronda towns as they are on the east and south fringes of the mountain range, and they include such picturesque destinations as Tolox, Guaro and Istán.
There are also two more areas worth visiting further away nearer the coast which are also not strictly part of the Serranía de Ronda but are often included in guide books. South of Gaucín and less inland from Casares and Manilva are two protected areas: the Sierra Crestellina Natural Area, near the village of Casares, and the Reales de la Sierra Bermeja Natural Area. Although little visited, they offer some superb walks through dense woodland.
Villages on the River Genal (Alto Genal) (A-369 - Ronda to Gaucin)
Visiting the white villages of the Genal Valley is one of those experiences that no fan of rural tourism should miss. And it is that this region located a few kilometers from Ronda offers visitors something new to discover at every step. Magnificent landscapes, streets of Arab tradition, colorful patios and charming white houses that characterize all its towns.
Villages on the Alto Guadiaro
The Guadiaro River is located in southern Andalucia. This river runs through the provinces of Malaga and Cádiz. The source of the river is in Ronda, at the confluence of the Guadalevín and Guadalcobacín rivers, in a place known as La Indiana. Here, we can visit the villages of Jimera de Libar, Montejaque, Cortes de la Frontera and Benaoján, surrounded by limestone landscapes and forests of cork oaks, poplars and gall oaks.
Villages of the South East
In the south east of the Serrania de Ronda you can visit the villages of Guaro, Istán, Monda and Tolox. These are typical Andalusian white villages with an excellent gastronomy and beautiful landscapes where you can practice different activities in the nature.
Villages of the North East
In the North East of La Serranía de Ronda we can visit the towns of Alozaina, El Burgo, Arriate, Casarabonela and Yunquera. These towns are surrounded by fields of olive and almond tres.
Book Hotels in Serranía de Ronda
Natural Parks, Areas and Monuments
Main sights
Attractions
Activities
Gastronomy
The area of wine production known as the Serrania de Ronda forms part of the DO Sierras of Malaga, producing what are popularly known as 'the Ronda Wines'. Here modern bodegas at over 750m… More →
The pigs of Andalucia also contribute to the making of sausages, with red chorizo and black morcilla being the best-known. The villages in the vicinity of Ronda and Antequera (Málaga) are renowned… More →
The aroma of delicious sweet roast chestnuts roasting on the streets of Andalucía from late October to December, always brings a warm hearty feeling. There's something really special about eating… More →
Sports
Festivities
Health and Beauty
Destinations