Arriate
Arriate is a jack-in-the-box; a surprise package in a plain wrapper. Enter it from any direction, and it appears to be a sleepy rural village waiting, with no sense of urgency, for its grass to grow and its paint to dry. Then, abracadabra! - a corner is turned and the visitor is suddenly thrown into the sophisticated high street of a chic and bustling small town, full of high-class stores selling quality goods, and crowds who obviously have money enough to buy them. 
With an area of only 9 square kilometres, Arriate is the smallest municipal district in the province of Málaga, surrounded on all sides by land belonging to one of the largest - Ronda. Until 1630, it was part of the Ronda municipality itself, but in that year the inhabitants got together, had a whip-round, and raised enough money to buy their freedom.
Table wines from the Serrania de Ronda are produced around Arriate. More >
Arriate railway station is on the Henderson Railway. Restored station building now a restaurant.More >
History
Long before even Ronda had a name, the Iberians were here, and before them cave dwellers in the hills beside the Rio Guadalcobarin. For about four hundred years, beginning around the 8th Century BC, a complex and lively Iberian settlement existed, comprising at least three related hill forts. Cerro del Coto was particularly suited for the siting of a defensive fort, and archæological finds have confirmed that all of the interacting communities traded with the passing Phœnicians.
The road from Ronda to the town of Setenil de las Bodegas (the best means of access to Arriate) is straight enough to convince many historians that it owes its existence to the Romans. This may well be true also of the bridge that marks the present day site of the village at Arroyo de la Ventilla. Certainly in Roman times homesteads were constructed on both sides of the bridge, and at least two nearby mills have been shown to have Roman origins.
By using the term "village" for the Arriate of Moorish times we may well be guilty of exaggeration. It was in truth no more than a single large farmstead, or cortijo, which bore the obviously Moorish name of Arriadh. From this the modern name of Arriate is derived. The word has two meanings. In horticulture, it refers to a trellis, or border. Its other meaning, which would appear more relevant, is road, or path; perhaps a reassuring hint to travellers bound from Ronda to Setenil, or vice versa, that they were on the right track, and not becoming hopelessly lost.
The eight centuries of Moorish occupation were tranquil ones for Arriate, if judged by its table of appearances in the historical record. There is but one. In the year 1407, an enterprising Christian commander, Hernando Arias, eager to do his bit for the reconquest and write his name large in the chronicles of glory, rode out of Cañete la Real with his troops and threw a few punches at the Moors in the Arriate valley. Though the fighting, such as it was, would have been eclipsed by many a Saturday night pub brawl, chroniclers (no doubt in the pay of Sr Arias) dubbed it a "battle". Battle or not, it was well ahead of its time. Ronda, of which Arriate was still an integral part, did not fall to the Christians until 1484, by which time Hernando Arias was long dead and almost as long forgotten.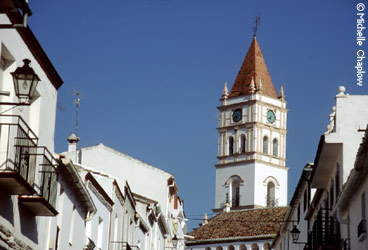 The failure of Arias to subdue the local Moors and sweep on to a famous victory may be due to many factors. He may have been a buffoon. He may have been unfortunate. He may have been betrayed. Whatever the truth, it certainly suggests that despite consisting of a single homestead, Arriate must have had some form of serious fortification guarding the bridge.
After 1484, and the final expulsion of the Moors from the area, Arriate developed rapidly, though it remained in the shadow of the surrounding power of Ronda until its management buy-out in 1630. A measure of independence was granted in 1635, and this was formalised with the granting of a charter in 1661 by King Felipe IV.
Destinations