Alpandeire Home | History | Things To See | Fray Leopoldo
Alpandeire
Alpandeire clings to the steep southern side of the Genal valley, very near the source of the river that names the valley. Many springs below the village feed the Genal, which is one of the most important rivers in the region and the subject of no little ecological campaigning. The pueblo itself is 694 metres above sea level and is dominated by the Jaraspetar peak of nearly 5,000 feet. Alpandeire covers 31.3 square kilometres, but its population is only 330 and falling.
The name is derived from a Morisco corruption of "El Pandero", which was changed by Christian converts from El into the Arabic Al. As in so many of these small white villages, this was once again a settlement of Moorish origin. However, though the Romans seem to have neglected the area, dolmens (Stone Age burial chambers), can be found in the north of the municipal district.
Alpandiere is famed as the birthplace of a Capuchin monk, known later as Fray Leopold de Alpandeire. Born on 24 June 1866 as the oldest of four siblings, Francisco Tomas Marquez Sanchez, he became… More →
Under the control of the Kingdom of Ronda during the Moorish period, the town flourished as one of its principle fortresses, 17 kilometres south of the capital. Later, Alpandeire became the refuge… More →
The Jesuit twin towered Church of San Antonio de Padua is the most striking landmark when approaching Alpandeire. Known locally as the 'Cathedral of the Serrania' due to its size, it was begun by… More →
Walking the Mountains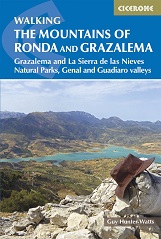 The dramatically situated town of Ronda can make a great base for a walking holiday in the mountains of Andalucía, as can any one of the picturesque 'pueblos blancos' (white villages) that nestle among the surrounding hills. This guidebook presents 32 mainly circular walks in the Ronda region, covering the town and its environs, the Natural Parks of La Sierra de Grazalema and La Sierra de las Nieves (both UNESCO biosphere reserves), and the Genal and Guadiaro Valleys.
Clear route description is illustrated with mapping, and the route summary table and 'at a glance' information boxes make it easy to choose the right walk. There is the option to buy a printed book, an eBook, or both as one deal.
Buy a copy online of Walking the Mountains of Ronda and Grazalema
Destinations