Main sites in Ronda
Ronda is one of Andalucia's loveliest towns, steeped in history. There is plenty to see beyond the view from the bridge over the plunging gorge which divides the town. Below are the main attractions and things to see in Ronda, and when is best to see them. 
Ronda Guided City Tour
Ronda Guided City Tour
Discover the unique heritage of the beautiful city of Ronda that nestled nestles either side of the Tajo (Gorge) which divides it. From the Puente Nuevo (New Bridge), which serves as a connection between the old medina and the new medina, you'll see beautiful views.

Ronda: Tapas and Wine Tasting Tour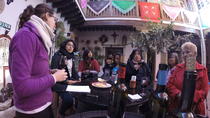 Ronda: Tapas and Wine Tasting Tour
Explore the town of Ronda like on a food and wine tasting tour, and see all the best spots of the city while enjoying some of the finest wines and delicious tapas. Visit the Ronda Wine Museum and learn more about the region's wines Taste the wines of this Malaga wine region at the Ronda Wine Museum.  See the famous sights of Ronda with a local guide and visit local gourmet shops and restaurants. 

Ronda Half-Day Tour With Tapas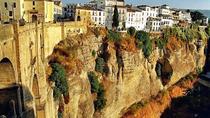 Ronda Half-Day Tour With Tapas
The incomparable phenomenon of Ronda, separated by the narrow and deep gorge. The spectacle of Ronda is indescribable, and, around it, an ample valley with working fields, oaks and olive trees. And there in the distance, as if it had recovered all its strength, the pure mountain rises, range after range, until it forms the most splendid background.

Private Walking Tour of Ronda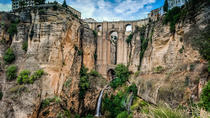 Private Walking Tour of Ronda
Discover the beauty of Ronda on this private 3-hour walking tour. Enjoy this personalized tour with an official tour guide. Explore the city's most iconic monuments and sights like the Arab baths, Old Town Hall, and one of Spain's oldest bullring. You can customize the tour to meet your needs.

Destinations