Restaurants in Ronda 
Ronda has no shortage when it comes to finding a place to eat. There are restaurants and tapas bars located all around the town, some with terraces that provide an idyllic place to sit and enjoy your meal whilst looking over the famous gorge. Prices can be extautionate in central locations, so don´t be fooled. Listed below are our recommended restaurants in Ronda, serving the very best of authentic Andalucian cuisine. Enjoy. 
Bardal
Bardal is known for its highly artistic, exquisitelypresented dishes using a combination of local ingredients and cutting-edge techniques, by chef Benito Gomez. This restaurant boasts two Michelin stars, as of November 2019. More>
Calle José Aparicio, 1. Ronda
Tel: +34 951 48 98 28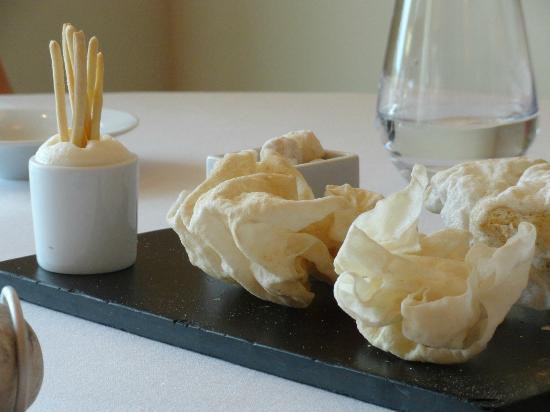 Tragabuches
Lunch & Dinner. International innovative cuisine. Closed Mondays. c.c.'s accepted. rec. Reservations. An attractive restaurant with an original menu using high quality ingredients - a real treat.
Calle José Aparicio, 11. Ronda
Tel: +34 952 190 291
Méson El Coto Alto
This restaurant is well decorated and has a wonderful terrace. It serves traditional mediterranean and Andalucian food. Enjoy a variety of seafood and meat dishes. c.c.'s accepted. A well laid out restaurant in a rustic setting with a good comprehensive menu.
Plaza Duquesa de Parcent, 9, 29400. Ronda
Tel: +34 952 872 652. 
La Gota de Vino
This restaurant serves traditional, authentic home-made Spanish food. Expect great value and tasty food. You will find a good variety of wine here to enjoy with your meal. Breakfast/Brunch, dinners on Tuedays and Wednesdays.
Calle Sevilla, nº 13. Ronda
Tel: +34 952 875 716 | +34 629 512 683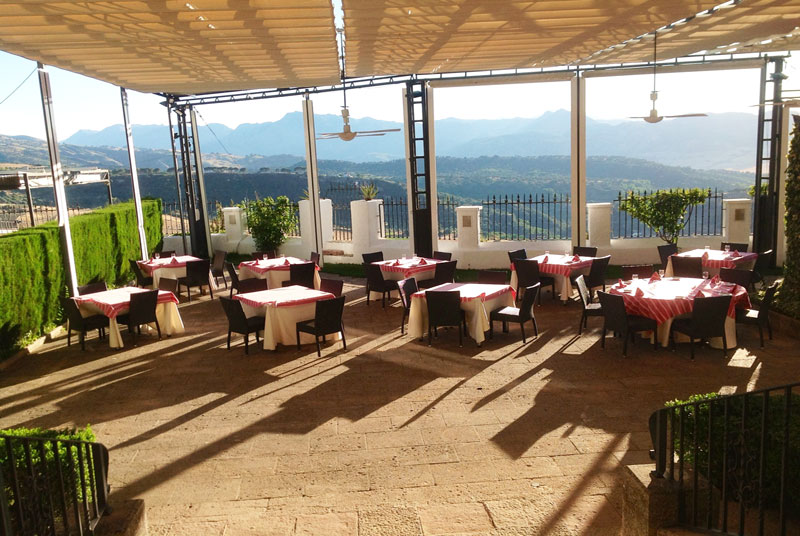 Restaurante Casa del Escudero
Situated next to the Plaza de los Toros, this restaurant serves high quality meals and offers spectacular views across Ronda. It has several rooms and can cater for events and parties. c.c.´s accepted.
Paseo de Blas Infante, 1. 29400. Ronda
Tel: +34 952 871 367
Casa Santa Pola
Situated in the historic part of Ronda with a terrace giving unrivalled views of the Ronda bridge, Casa Santa Pola serves fresh, traditional food from the region of Andalucia. c.c.´s accepted.
Cuesta de Santo Domingo, 3 29400. Ronda
Tel: +34 952 879 208
Restaurante Albacara
This restaurant serves fish and meat dishes as well as a good selection of vegetarian options. Be prepared for samples of culinary art, such as Red Prawn Balls with cockle sauce or Duck Foie Gras with quince and red wine reduction from Ronda. c.c.´s accepted.
C/Tenorio 8 | Hotel Montelirio, 29400. Ronda
Tel: +34 952 873 855
Tapas in Ronda
Ronda is also home to some delightful tapas bars and restaurants. These can often provide great value for money or an easy option for those who just want to stop off quickly for something to eat.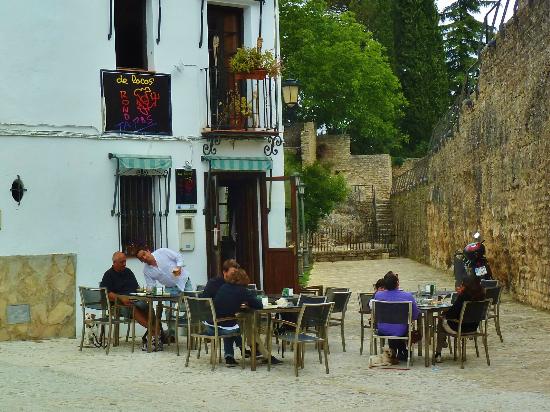 De Locos Tapas
This tapas bar serves food with thought. Great attention to detail and fantastic flavours make for a special meal. A good atmosphere too. Lunch & Dinner Tues-Sat, Monday Closed. Only Lunch on Sundays. 
Arquitecto Pons Sorolla, 7, 29400. Ronda
Tel: +34 951 083 772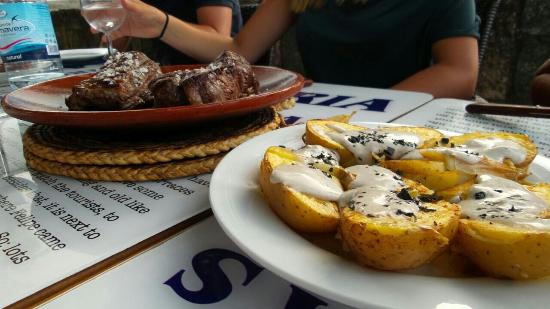 Casa Maria
With no menu, this tapas restaurant serves the most authentic of Spanish tapas. Food is cooked with local ingredients, different every day. A great experience.
Plaza Ruedo Alameda, 27. Ronda
Tel: +34 951 083 663
Pinchitos de Pollo
Destinations