by Lee Gutcher
The Pueblos Blancos, or white towns are places of great beauty. Set in rural mountainous terrain each town offers spectacular picturesque views. The most famous of these white towns is Ronda.
The best way to appreciate the White Towns is by car. Winding along the mountainous roads any route provides great reward and beautiful scenery. Watch out for other Pueblos Blancos such as Gaucin, Casares, and Jimena de la Frontera. Without a car these places would be difficult to get to, only Ronda has good transport links. Taking the train to Ronda from Algeciras is the best method of entry.
Ronda itself is built on an isolated ridge and split by a huge gorge of over 100m. The gorge is spanned by a breathtaking bridge, which claimed its creator's own life as he peered over to admire his work. It is the stunning mountain scenery and natural beauty which pulls in the masses of tourists, and few leave disappointed.
The maze-like town itself is a pleasant stroll. You might also want to descend the hundreds of steps to the bottom of the gorge from the Casa Del Rey. There are also some well preserved 13th Century Arab Baths on the riverbank.
The Plaza de Toros is certainly worth a visit. You can stroll at will around the oldest bullring in Spain. It was here where modern bullfighting developed, all of which is explained in the excellent free information guide. There is also a museum with costume and some rather bloodthirsty pictures.
See the Ronda home page.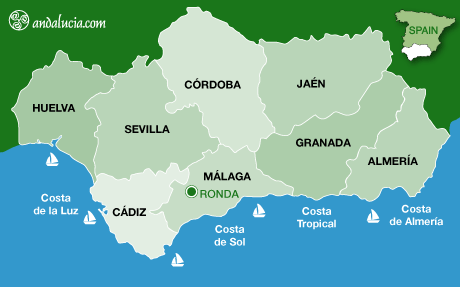 Hover the cursor over Ronda to see bigger map and click to go to the maps page.