Ronda - Hotels
Ronda is a historic town which draws visitors to its stunning gorge, beautiful buildings and famous bullring. Many of its hotels are located on the cliff edge, with spectacular views over the surrounding countryside. Within easy reach of the coast, Ronda is also not far from Seville and Cadiz. Enjoy a stopover in Ronda, or nearby, at one of these characterful hotels.
There is an abundance of accommodation in and around Ronda. Being a popular tourist destination, there are many different types of hotels. Some hotels are more centrally located than others and some have stunning views over the gorge and surrounding landscape. There is also the option of self-catering apartments and villas.
Highlighted Hotels in or near Ronda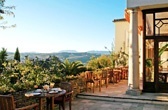 Stylish luxury country hotel located between olive and pistachio-groves just outside Ronda. This hotel features a superb restaurant with fine and informal dining. Many ingredients are locally sourced.
Hotels in Ronda
Book Hotels in Ronda
Destinations