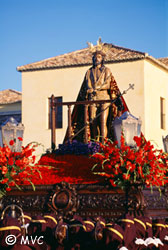 Semana Santa in Ronda
Fiesta de la Virgen de la Paz
Patron Saint of Ronda - January 24th.
Semana Santa
Like all Andalucian towns, Ronda celebrates Holy Week with processions, most of which begin in the late afternoon and take hours to wend through the streets and alleys of the old city. Due to its historic charm Ronda is an excelent place to watch the proscssions. Many cross the Tajo at puente nuevo into Plaza Espana. The Baclcony of the rooms of the Parador are an excxcelent place to watch these processions. The Legionairs procession on the night of Jueves Santo and the Widows on Viernes Santo are highlights of Ronda Semana Santa. About Semana Santa 
Feria de la Reconquista
Traditionally 20th to 23rd May.LA VIRGEN DE LA CABEZA
La Virgen de la Cabeza
The Virgen de la Cabeza in Ronda is also a very popular and picturesque pilgrimage on on of the last Sunday in May or first in June. More about Virgin de la Cabeza.
Feria Goysesqua
The Feria Goyesca (properly called the Feria de Pedro Romero) stems from the inter-relationship of three main personae which spanned over three centuries, all with strong connections to Ronda. They are the famous 18th century bullfighter, Pedro Romero; the extremely influential 18th century Spanish painter, Francisco de la Goya; and finally, the great 20th century bullfighter, Antoñio Ordóñez, to whom the vision of the Ronda's modern Feria Goyesca can be attributed. More about the Goyesque Feria
Bullfights and Cattlemarket.
Destinations