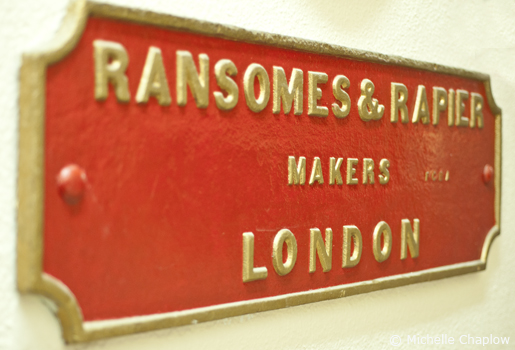 Makers plaque, possibly from a steam shovel or crane used in constructing the railway.
MR Hendersons Railway
In the 1890's, a railway was built by the Algeciras (Gibraltar) Railway Company Ltd between Algeciras and Ronda and Bobadilla where it connected with the existing Cordoba to Malaga line to give access to Madrid and Europe. Nowadays the train journey from Algiceras or San Roque makes a lovely day trip through stunning scenery and historic sites, with gastronomic surprises en route. As well as the novelty of spotting British Victorian railway memorabilia the route passes the beautiful Genal valley, in a place where there is no road access.
The mastermind behind the railway was a British engineer, John Morrison, backed by his friend and wealthy financier Sir Alexander Henderson - later, the first Lord Faringdon. The two men had already cut their teeth on ambitious railway projects in South America. It ran from Algeciras to Bobadilla, where it met the main line to Madrid, the gateway for the rest of Europe. The first section of the railway up to Jimena was officially opened in October 1890, and the next to Ronda in November 1892, operating six passenger trains daily through 22 stations and costing 11 pesetas and 65 centimos (8c) for a first class seat from San Roque to Ronda.
History
Historical Timeline  by Chris Chaplow
Gibraltar connection article about the railway and its history by Bellinda Becket published July 2013.
Acccount of the journey and the history by Sue Walk first publised in winter 1995 edition of Mediteranean Life magazine.

 
ALGECIRAS TO RONDA AND BACK by TRAIN
Nowadays the trains are more modern and comfortable and although they lack open windows to hang your head out of, the view is nonetheless spectacular.  There are only two stopping and three express trains a day from Algiciras or San Roque to Ronda.
One option for visitors from theCosta del Sol is to take the morning train from Algeciras (10.30 hrs) or San Roque (10.36 hrs) to Ronda or one of the village stations described below. Then return take the return train from Ronda (15,34 hrs) or Express (19.00 hrs)
Alternatively you start at Ronda, is to take the morning train (11.08 hrs) to one of the villages, and continue to San Roque on the later train from Ronda (15,34 hrs). Then you have the option to return on the stopping train which leaves Algeciras at 17.04 hrs.
STATIONS
Note: San Pablo, Jimera de Libar and Arriate stations have excellent restaurants housed in restored building on the actual stations. Ideal for a gastronomic journey. 
Algeciras

Main terminal Station in the port town of Algeciras.

Los Barrios

Station near the village of Los Barrios, in the Campo de Gibraltar.

San Roque
San Roque La Linea
Station close to the hill town of San Roque, and La Linea de la Concepcion, border town with Gibraltar.
Almoraima

Station for fortified Moorish town of Castellar de la Frontera and other rural communities. In a beautiful natural environment: the Alcornocales Natural Park (cork oak forest).

Castellar
 
Station closed and demolished. evidence of building and sidings remain. At junction of CA-512 and A-405 roads.
Jimena de la Frontera

Station in Los Ángeles, the 'estación' area, below the pueblo blanco (white hilltown) of Jimena de la Frontera.

San Pablo

Station for the tiny village of San Pablo de Buceite. Excellent restaurant housed in the station building and on its old platform.

Gaucin

Station 8km down the hill from Gaucin, one of Andalucia's most famous white hilltop villages, in the village of El Colmenar. Was location of much loved Casario Ananda (2007 to 2015) restaurant in the old good shed. Start of Cañón de las Buitreras walk (natural monument).

Cortes de la Frontera

Station below Cortes de la Frontera. End of Cañón de las Buitreras walk.

Jimera de Libar

Station in small village of Jimera de Libar. Start of Guy Hunter-Watts' walk of Mr Henderson's Railway.

Benaojan Montejaque

Station in lower part of Benoajan village, with good hotels and restaurants, close to Montejaque village and Cueva de la Gata. End of Guy Hunter Watts' walk of Mr Henderson's Railway.

La Indiana
 
Now closed but visitable station that served the Legion's camp.
Arriate

Station in village of Arriate, near Ronda. Restaurant, El Muelle de Arriate, in former goods shed, with large terrace.

Ronda

Main station in town of Ronda.

Parchite
 
Station closed and demolished, only foundations can still be seen. 
Setenil
 
Station outside the village of Setenil, Original scales in platform
Almargen - Cañete la Real
 
Station in the village of Almargen, watertanks and lamp brackets.
Teba
 
Station now closed, little remains of original.
Campillos
 
Station outside the Vilage of Campillos. 
Bobadilla
 
Station on the 1865 Cordoba - Malaga line that Henderson linked to at Bobadilla. 
Destinations