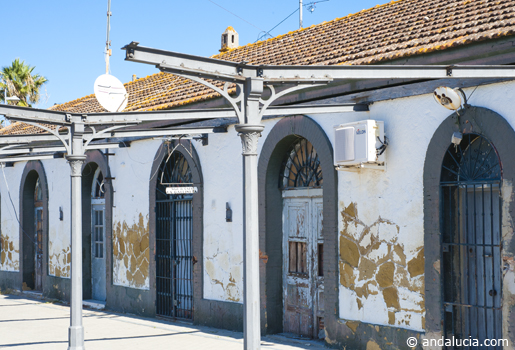 Mr Henderson Railway San Roque station building is in a poor state of repair.
San Roque / La Linea railway station
This railway station a few km west from the hill village of San Roque and the town of La Linea de la Concepcion (for Gibraltar). It is part of the Mr Henderson's Railway that joins Algeciras and Ronda with the rail network at Bobadilla for main lines to Granada, Malaga, Cordoba and Madrid.
The station is in an area of San Roque called 'Estacion de San Roque' near the river Guadarranque and by the A405 road that links Gaucin with the A7 coast road.  The district was founded after the station was opened in 1909 and the initial inhabitants mainly came from the villages of the Serrania de Ronda served by the railway line. 
There are two 'Altira' express trains a day to Madrid Atocha station, stopping at Ronda, Antequera Santa Ana, Cordoba Central, Puertollano and Cuidad Real. There are three return medium-distance trains stopping at local stations to Ronda and Bobadilla to Granada.  
This is a suitable place for visitors arriving from the Costa del Sol to join Mr Henderson's Railway for Ronda.
In the modern station building, the ticket office is open from 7am to 10pm. There is also a cafe, toilets, car parking and post office. San Roque urban bus number 1 runs from the station to the town centre. Taxi rank opposite.
Address Avenida de Guadarranque s/n 11368 San Roque
Train Tickets Online
Check times and buy your train tickets online in English language.    eTickets by email or paper tickets by post. Includes seat reservation when available.
The next stations are Los Barrios and Almoraima
HISTORY
The station was added to the line in 1909. The original station building on the platform is in a very bad state of repair - structurally sound but abandoned since the café closed and the hunting club left the premises. Original 19th-century Linley & Co of Birmingham Improved Platform Lamp iron brackets can be seen on the wall.  The cast-iron supports for the wooden canopy remain. The window and door trim is blue-grey, not Andalucian yellow as other station buildings (2014).
Read about Mr Henderson's Railway