San Roque
San Roque sits at 109 meters above sea level on a hill looking down across the Bay of Algeciras towards North Africa. With a population of approximately 23,000, San Roque lies between the Cadiz municipalities of La Linea de la Concepción and Los Barrios. The village sits on top of a hill on to the side of the busy A-7 coast road. It is worth stopping to take a look roaun.d 
Situated as it between two continents, the sea and the ocean and three cultures; Spanish, British and Arabic - colours and flavours abound. The surrounding area offers spectacular and contrasting landscapes of sea and ocean beaches, as well as lush countryside alive with wild life. It is popular for those who enjoy water sports, rock climbing, golf, paddle tennis, polo and much more. In the municipality of San Roque there are six golf courses. It is also home to Sotogrande - one of the foremost residential developments of Europe - a Mecca for golfers and polo players. West of Sotogrande is also the San Roque Club resort with two golf courses. 
Rural tourism is also very popular in the San Roque area, which includes one of the most beautiful forests in Europe, Pinar del Rey, with its many types of indigenous flora and fauna. In the area of San Roque there are outstanding bird watching opportunities in the Campo de Gibraltar.
Districts
As well as the village of San Roque, the municipality of San Roque has eight formal suburbs. The municipal district reaches down to the sea in two distinct and separate areas; east of neighbouring La Linea from Sotogrande to Torreguadiaro and west of La Linea from Guadarranque to Campamianto. Due to the industrialisation of the western area the tourist will be more interested in the eastern areas.  Alcaidesa resort separated from Sotogrande by a large country estate and military land lies within in the municipality of La Linea.    
Sotogrande & San Roque Club resorts
Pueblo Nuevo de Guadiaro / Guadiaro
San Enrique
Torreguadiaro

Taraguilla / Miraflores / Estación de San Roque
Guadarranque
Puente Mayorga
Campamento
The village of San Roque, with its steep narrow streets and whitewashed houses has maintained a quintessential Andalucian flavour and is a delight to visit. The well tended little balconies and wrought iron work grilled windows burst with the colour of well tended plants. There is plenty to do within the village of San Roque, with many historical monuments and points of interest, as well a museum and churches, to say nothing of the wonderful local bars and restaurants to keep you going along the way. Steeped in history and tradition, you will see a piece of real Andalucia. Begin with a visit to the San Roque bullring, which was built in 1853 and is the fourth oldest in Andalucia.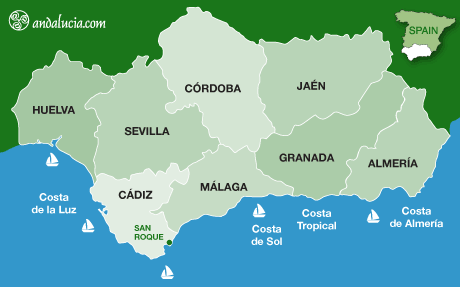 Destinations