San Martin del Tesorillo
This white village is famous for its orange groves and its emblematic half-moon-shaped, steel truss-girder bridge which spans the river Guadario as it flows down to the Mediterranean. San Martín del Tesorillo is 22km south-east of Jimena de la Frontera, in the Campo de Gibraltar, right on the border between Cadiz and Malaga provinces. It became a 'entidad local' (sub-district) of Jimena in 1999.

San Martin is a relatively new town, having been founded just over a century ago, in 1879. The very first agricultural company in San Martín was founded by Manuel Domingo Larios y Larios, son of  Martín Larios y Herreros de Tejada, the first Marqués de Larios, who bought the land from the Marques de Medina Sidonia (Larios' title was bestowed on him by Queen Isabel II). The Larios dynasty went on to found the famous Larios gin brand in the 1920s. Today, many hectares of farming land are dedicated to the polo industry, but even so a large and thriving agricultural industry still exists.
The best time to visit San Martin del Tesorillo 
The months of December and January are good time to visit this village, as this is when the orange harvest takes place. You can buy kilos of huge, freshly-harvested table oranges for just a few euros. Another good time to visit for polo lovers (and paperback novel-reading romantics) is July and August, the height of the polo season, when whole teams of hunks fly in from Argentina. Finally for aroma lovers, try April when orange blossom drenches the air.
Highlights of San Martin del Tesorillo

Without doubt the huge expanse of orange groves and the immaculate polo fields are well worth seeing.
The central village square is known as the Plaza de la Constitución, while the modern Church of San Martin de Tours dates from the 1960s.
On the way into the village, in calle San Pablo, some of the houses have charming old wooden doorframes and beautiful terracotta roofs, with typical Andalucian architectural details. These houses could provide an interesting restoration project, to convert them back to their original 19th-century splendour. This same street leads to Calle Ancho, a carefully tended palm-fringed street with cascading geraniums spilling out of window frames and wrought-iron rajas (bars).
The village also boasts a new two-star hotel in the town and the four-star Hotel Monasterio de San Martín (CA-513, Km 4, Montenegral Alto).

The hamlet on the other side of the river is called Secadero. Due to a quirky municipal boundary, Sacadero is actually part of the village of Casares, over the hills and far away. For this reason Sacadero has a sub-office of Casares town hall in the village.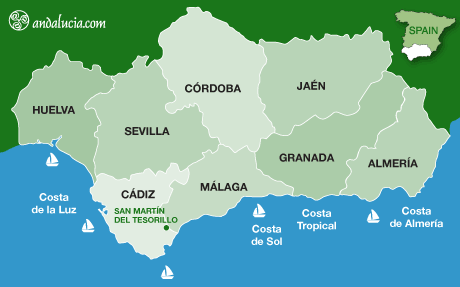 Destinations