Guide to Rock of Gibraltar
Take me to: Accommodation | Airport | Restaurants | Things to do
Gibraltar is famous worldwide for its dramatic rock. It is located in a strategic position at the southern end of the Iberian Peninsula. It overlooks the Straits of Gibraltar and is linked to Spain by a narrow isthmus. Gibraltar is often known as the 'meeting of continents'.
Gibraltar is imposing but small. It measures less than six square kilometres in total. It is inhabited by around 30,000 people mainly made up of Gibraltarians, British, Moroccans, Indians and Spanish. There is also a colony of the famous apes, the only ones in Europe to run free in a semi-wild state.
Gibraltar is a British self-governing oversees territory (colony). It has a Governor, Lieutenant-general Ed Davis (Royal Marines officer) Commander of the Order of the British Empire, who is the Queen's representative on the Rock and Commander-in Chief of the British Forces stationed there. Britain is responsible for Gibraltar's foreign affairs, defence and the political stability of the colony. However, the Rock has its own Chief Minister, Fabian Picardo, plus a House of Parliament and a government, which oversees the day-to-day affairs of the Rock.
Gibraltar is a member of the European Union by virtue of Britain's membership. However, Gibraltar is outside the Customs Union so travellers from EU member states can still enjoy duty free purchases but suffer often lengthy queues for customs checks retuning to Spain.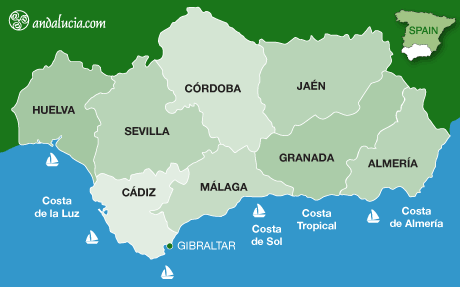 Hover the cursor over Gibraltar to see bigger map and click to go to the maps page.
Destinations