San Enrique de Guadiaro
This very small village, known locally as San Enrique de Guadiaro, is part of the municipality of San Roque in the Campo de Gibraltar. Its economy is based around horticulture - citrus fruit trees, mainly orange and lemon, that grow in the flood plain of the Guadiaro River. The village sits on the northern side of this river and has about 1,000 inhabitants.
The village of San Enrique de Guadiaro was formed in 1887 when Manuel Domingo Larios, Marques de Larios y Guadiaro, of the Larios gin family, created the Sociedad Industrial y Agricola de Guadiaro. This company's local fruit cultivation also saw the founding of neighbouring villages such as San Martin de Tesorillo.
The centre of the village is the Plaza de la Fuente.
San Roque is connected to the coastal highway A-7 by the A-2102. This local road was the coastal highway before the concrete bridges over the Guadiaron current A-7. The coast road looped inland near Torreguadiaro in order to cross the Guadiaro river on an iron girder truss double-span bridge built in 1929, by Engineer Eduardo Torroja y Miret. Before this bridge there was a ferry and the journey from La Linea to Estepona took one day. The bridge lead to the villages of Guadiaro and Pueblo Nuevo de Guadiaro, San Enrique's neighbour which sits close to the main road near Sotogrande. 
A few km further upstream is El Secadero (which is in the municipality of Casares) and over another river crossing to San Martin de Tesorillo. The road leads on to Jimena de la Frontera and Castillar de la Frontera.
San Martin de Tesorillo is home to the Ayala Polo Club, with its three beautifully maintained pitches, two exercise areas, 250 stables , plus Argentinian restaurant El Asador Cancha II.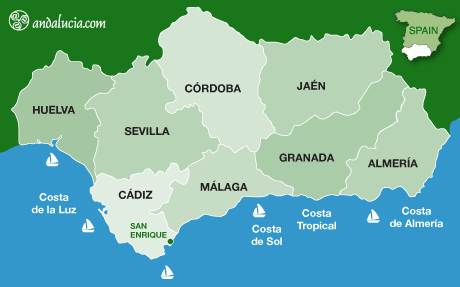 Destinations