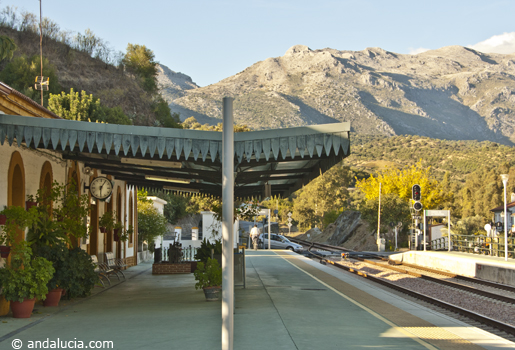 Cortes de la Frontera station is in the Guadiaro Valley
Cortes de la Frontera railway station
Cortes railway station is down in the valley, below the hillside village of Cortes de la Frontera, on the A-373 Cortes to Gaucin road.  The station, which has an alpine feel with the mountains towering over it, is well maintained down to the hanging plant pots.
Both of the two platforms are used, with an automatic level crossing at the end of one platform. The upgraded signaling allows this station to be used as a passing place for trains on the single track.
Outbuildings, such as the familiar brick goods shed with circular window opening in the pitched-roof gable, have been renovated, perhaps awaiting a restaurateur as at Gaucin and Arriate and Jimera de Libar stations.
There are three trains a day in each direction for Algeciras, Ronda and Granada. The station has a ticket office, waiting room, and toilets.
Download a timetable
Train Tickets Online
Check times and buy your train tickets online in English language.    eTickets by email or paper tickets by post. Includes seat reservation when available.
The next stations are Gaucin  and Jimera de Libar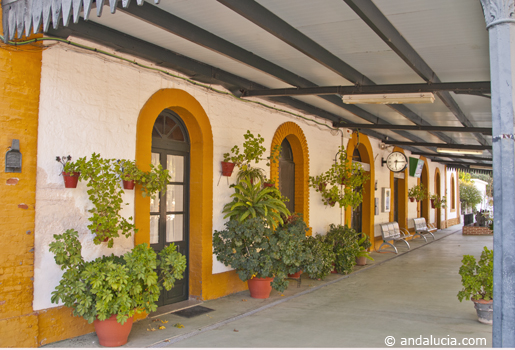 Cortes de la Frontera station in the late evening sunlight
HISTORY
The original 1892 station building houses the waiting room and the ticket office. The single-storey pitched-roof white building with Andalucian yellow trim around doors and windows is well maintained. You can still see the original 19th-century Linley & Co of Birmingham Improved Platform Lamp iron wall brackets. A wood-fringed canopy attached to the building, supported on wrought-iron pillars spanning the adjacent platform, gives the station an 'anglo', or some would say colonial Indian, look.
Read about Mr Henderson's Railway  

View Mr Hendersons Railway in a larger map