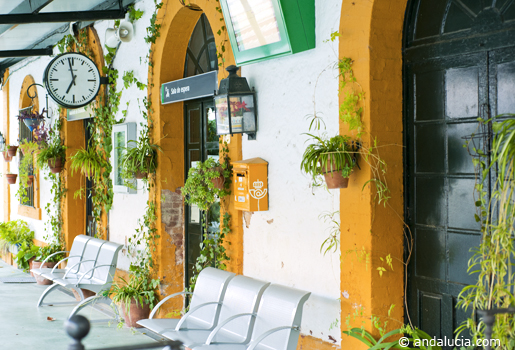 Jimera de libar station building
Jimera de Libar railway station
Jimera de Libar station is down just down in valley from the hill village of Jimera de Libar.
This station has an alpine feel with the mountains towering behind it.  It is well-maintained, down to the hanging plant pots.
There are three trains a day in each direction for Algeciras, Ronda and Granada. The station is manned and in good condition with ticket office, waiting room, and toilets. Two platforms are currently used. A former level crossing at the end of the platform has now been replaced with a concrete road bridge under which a minor level crossing is used for cattle. Upgraded signalling allows this station to be used as a passing place for trains on the single track.
The familiar brick goods shed with circular window opening in the pitched-roof gable has been beautifully restored and is now the Quercus Restaurant. Sitting on the terrace you are next to the railway lines.
Train Tickets Online
Check times and buy your train tickets online in English language.    eTickets by email or paper tickets by post. Includes seat reservation when available.
The next stations are Cortes de la Frontera  and Benaojan

HISTORY
The original 1892 station building houses the waiting room and the ticket office .The single-storey pitched-roof white building with Andalucian yellow brick trim around the doors and windows is well-maintained. The original 19th-century Linley & Co. of Birmingham Improved Platform Lamp iron wall brackets can still be seen.  A wood-fringed canopy, supported on wrought-iron pillars, lends the station an 'anglo' or, some would say, colonial Indian look.
You can see the original base to the water tower for the steam engines - these solid structures are always converted into simple yet useful water storage tanks. An original direction indicator oil lamp is mounted on the terrace wall of Quercus restaurant.  
1950s RENFE railway wagons, restored and painted in real railway rust colour, occupy their own 20m of track at the back of the station platform. Used as storage and funded by the EU, they add to the railway ambience.
Los Wagons is a cafe bar at the station located in and outside of a line of refurbished classic train freight wagons. Quercus restaurant was a restaurant located on one of the original henderson freight stores at the station. It closed around 2019.
.
Read about Mr Henderson's Railway  

View Mr Hendersons Railway in a larger map
Walking the Mountains of Ronda and Grazalema" by Guy Hunter Watts includes 'The walk of Mr Henderson's Railway' from Benaoján Estación to Jimera de Libar.
Walking guide books by Guy Hunter Watts
Buy walking guide books by Guy Hunter Watts
"Walking in Andalucia" by Guy Hunter Watts
Walking in Andalucía is a 260 page full colour guide to some of the very best walks in southern Spain, taking the walker on 34 routes - all starting and most finishing in beautiful villages - in the Natural Parks of Grazalema, La Alpujarra, Cazorla, Los Alcornocales, Aracena, and La Axarquia. Many of the full and half day walks are virtually unknown even though they are a short drive from the Costa del Sol. Even though more and more people are beginning to walk Spain's southern sierras, most of the routes remain blissfully undiscovered. Guy says, 'If you decide to head for the hills with my guide you can be sure of two things: you will be walking through areas of great natural beauty and you will meet with other walkers.'  
Buy a printed or eBook copy online direct from publishers Walking in Andalucia.
"Coastal walks in Andalucia" by Guy Hunter Watts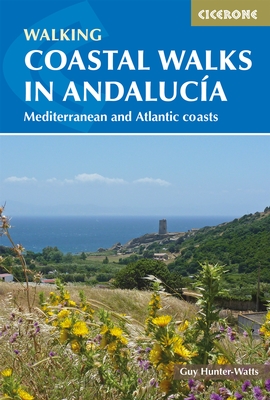 45 great coastal walks close to Andalucia's Mediterranean and Atlantic coasts. Discover the best hiking trails close to Vejer, Caños de Meca, Conil, Tarifa, Bolonia, Gibraltar, Casares, Estepona, Marbella, Istán, Mijas, Benalmádena, Alhaurín, Cómpeta, Fuengirola, Nerja, Maro and Almuñecar. Talk to most people about the coast of Andalucía and they'll picture the small swathe of seaboard that runs from Torremolinos to Estepona, the heartland of what is commonly sold as the Costa del Sol. First associations are of crowded beaches, busy coastal roads and blocks of holiday apartments. Few amongst them will conjure up visions of the mighty chain of mountains, the tail end of the Sierra Subbética, which rises up a few kilometres back from the sea. Nor do they tend to evoke the wilder beaches of the Costa de la Luz or the footpaths that run just a few metres from the Atlantic surf.
Buy a printed or eBook copy online direct from publishers Coastal Walks in Andalucia.
"The Andalucian coast to coast walk " by Guy Hunter Watts
A stunning 21 day, 435 kilometre trail that links the Mediterranean with the Atlantic. The walk passes through six of Andalucia's Natural Parks and protected areas via its most beautiful mountain villages. Far more than a long walk, this on-foot odyssey can lead you to the heart of southern Spain's magnificent sierras and on a life-changing journey of discovery. One of the best things about the simple act of walking is the sense of reconnecting with Nature and the Big Wide World. We've been moving around on two feet for a very long time yet still, in the simple act of putting one foot in front of the next and moving across landscape, it seems that we reassert our identity. Day to day worries fall into insignificance, or rather true significance, when we get out into the mountains and walking is about a lot more than taking exercise.
Buy a printed or eBook copy online direct from publishers The Andalucian Coast-to-coast Walk.
"Walking the Mountains of Ronda and Grazalema" by Guy Hunter Watts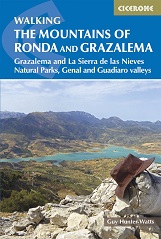 The dramatically situated town of Ronda can make a great base for a walking holiday in the mountains of Andalucía, as can any one of the picturesque 'pueblos blancos' (white villages) that nestle among the surrounding hills. This guidebook presents 32 mainly circular walks in the Ronda region, covering the town and its environs, the Natural Parks of La Sierra de Grazalema and La Sierra de las Nieves (both UNESCO biosphere reserves), and the Genal and Guadiaro Valleys. Clear route description is illustrated with mapping, and the route summary table and 'at a glance' information boxes make it easy to choose the right walk.
Buy a printed or eBook copy online direct from publishers Walking the Mountains of Ronda and Grazalema.