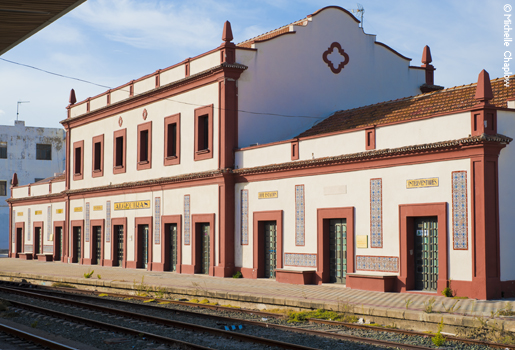 The 1890 Henderson building at Algeciras railway station, larger than the other station buildings on the line
Algeciras railway station
Algeciras railway station is the present terminus of Mr Henderson's Railway which connects Ronda with the Spanish rail network at Bobadilla for main lines to Granada, Malaga, Cordoba and Madrid.
The station is located in the upper part of the town and a few kilometers from the port due to a historical requirement to be out of range of the Gibraltar 100-ton gun (cannon).

The present Algeciras railway station was opened in 1982, following the closure of the link to the "Estacion del Puerto" (port station) for those passengers wishing to catch ferries to Ceuta and Tangiers.
Station facilities include ticket office, ticket machines, large waiting room, toilets, cafe, paid car park, taxi rank. The building is open from 6.15am to 10pm.
Destinations
Madrid to Algeciras
Train type: Altira
Time taken: 5hrs 15 mins
Freguency: 2 trains daily
Stops: Madrid, Cuidad Real, Puertollano, Cordoba, Antequera-Santa Ana, Ronda, San Roque, Algeciras.
Check times and purchase tickets online here.
Algeciras to Granada
Train type: Regional Medium Distance
Time taken: 5hrs 15 mins
Freguency: 2 trains daily
Stops: Algeciras, Los Barios, San Roque-La Linea, Almoraima, Jimena de la Frontera, San Pablo, Gaucin, Cortes de la Frontera, Jimera de Libar, Benoajan-Montejaque, Arriate, Ronda, Setenil, Almargen-Cañete la Real, Teba, Campillos, Bobadilla, Antquera Santa Ana, Antequera Cuidad, Loja-San Francisco, Granada
Train Tickets Online
Check times and buy your train tickets online in English language.    eTickets by email or paper tickets by post. Includes seat reservation when available.

Live train departures and arrivals at Algeciras for the next few hours can be viewed here, 
Address is Avenida Gesto por la Paz, s/n 11207 Algeciras.
The next station is Los Barrios
Station Hotels
HISTORY
The original 1890 station is located at the far end of the present platforms. A much more interesting building, it has been restored and houses administration offices, with the 'Asociacion de Amigos del Ferrocaril de Algeciras' occupying the first floor.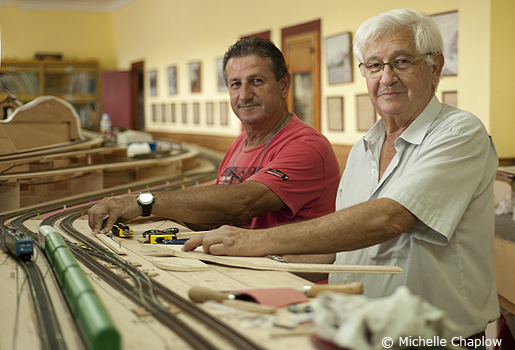 Jorge Rodriguez & José Roballo of the Asociacion de Amigos del Ferrocaril de Algeciras
José Roballo, Jorge Rodriguez and 20 members, most of whom either work or worked on the railway, are constructing a hand-painted scale model of the Mr Henderson's railway line as a six-year self-funded project. Railway memorabilia relating to the line can be viewed on Saturday 5pm-9pm (approx). Interesting Henderson artifacts on display include a 'Milners Patent Fire Resisting Safe' and a 'W Rains& Co London works Birmingham' cast-iron signal mast, as well as plans and blueprints for the failed Algeciras to Jerez railway. Read about Mr Henderson's Railway.
Destinations