Cosy interior of 'El Estacion'
San Pablo railway station
San Pablo railway station is the 'modern' village of San Pablo de Buceite. It is signed from the A-369 and located up a short road.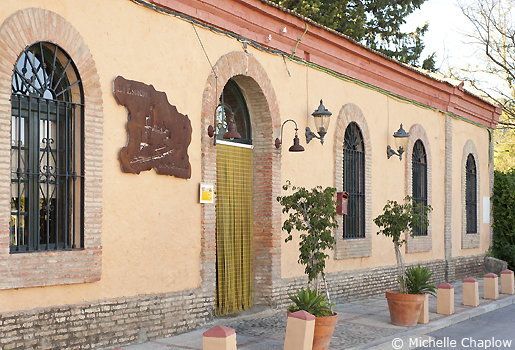 Henderson Station building is now 'La Estacion' bar restaurant
There is only one train a day in each direction for Algeciras and Ronda/Granada. The actual station (now a restaurant) is unmanned but tickets can be purchased from the train guard.  You can see outbuildings such as the familiar brick goods shed with circular window opening in the pitched-roof gable.
Flowers on the old station platform
The station building houses an excellent bar and restaurant called La Estacion. Dining is either inside in an eclectic, contemporary space surrounded by railway memorabilia, or outside under the canopy (on the old platform) or in the adjacent garden. Adif reconstructed and raised the platform in 2010, which now serves to separate the restaurant from the train tracks. An automatic digital-sounding voice warns diners of an approaching train - many rush to grab their cameras rather than rushing inside to avoid the speeding machine. On the terrace an original 1890s station iron and wood bench has been lovingly restored.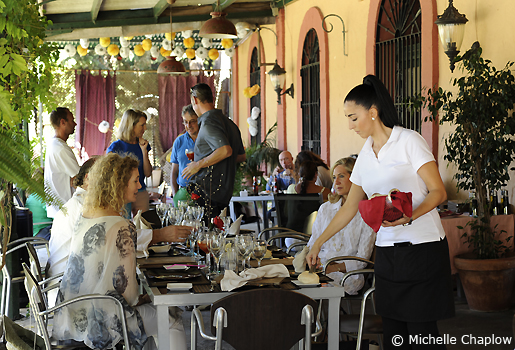 Hustle and bustle on the old station platform
Fortunately for Nieves, the proprietor of La Estacion restaurant, most of her customers arrive by car. This is necessary since there is only one stopping train a day in each direction - this is a request stop. Having said that, the times are perfect for travelling in leisurely style: catch the 12.01 from San Roque and arrive at the restaurant at 12.35 for an unhurried lunch, returning on the 16.54.
Fiona Flores Watson wrote about dining here in her blog post on the Railway.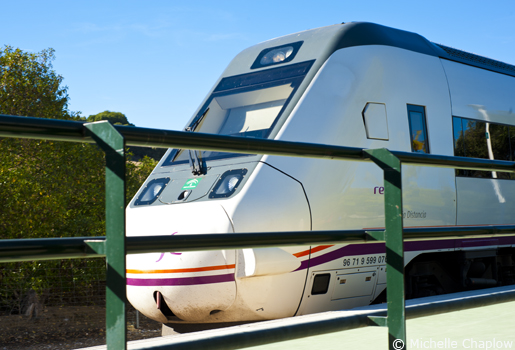 Train at the San Pablo station
The next stations are Jimena de la Frontera and Gaucin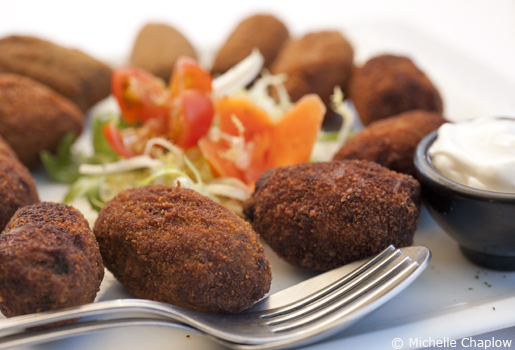 Home made croquettes
HISTORY
The original 1890 station building is now used as the restaurant. It is a traditional single-storey pitched-roof white building with Andalucian yellow trim around doors and windows, and is in good repair.  The wood-fringed platform canopy is supported on wrought-iron pillars. The only other Henderson artifacts that can be seen are the original 19th-century Linley & Co. of Birmingham Improved Platform Lamp iron wall brackets.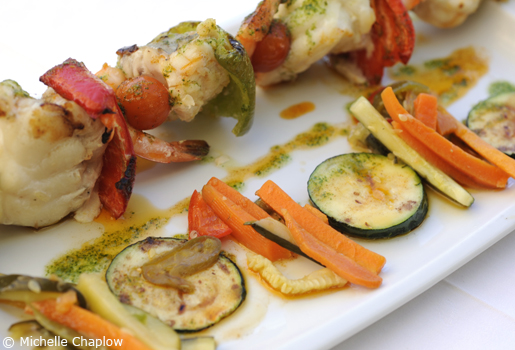 Grilled monk fish and king prawn kebabs with seasons vegetables
Read about Mr Henderson's Railway  

View Mr Hendersons Railway in a larger map