One of the rural train stations which Mr Henderson's Railway from Algeciras to Bobadilla still serves, over 100 years later.
This is a story about a railway. Not on the Island of Sodor, but in the valleys of Ronda. Just over a century ago, the Gibralteños wanted a faster, more reliable way to cross the mountains and reach inland Andalucia, linking with the main Malaga-to-Madrid train line at Bobadilla. Above all, the British officers at the garrison in Gibraltar, fed up with a tortuously slow and dangerous carriage journey on terrible roads to their R&R in Ronda, at risk of attacks from
bandits
and other inconveniences on the way, wanted a comfortable and secure means of transport for themselves and their families (as did many Spanish living in the area).
A British entrepreneur and financier called
Alexander Henderson
ran the project, working with two engineers: an Englishman called John Harrison, with whom Henderson had worked on railways in India and South America, and a Frenchman called Lamiable, who also worked on two other British-linked railways - in
Jerez
, used to transport
sherry
, and
Rio Tinto
in Huelva, for the mines. They took on the considerable project of building the new train line from
Algeciras to Bobadilla
in the 1880s and 1890s, blasting their way through mountains - it's easy to forget that constructing a railway with 14 tunnels was quite an engineering feat in those days. Today the 107km Algeciras to Ronda section of the line is known for its beautiful scenery and excellent restaurants, and it is popularly known as Mr Henderson's Railway.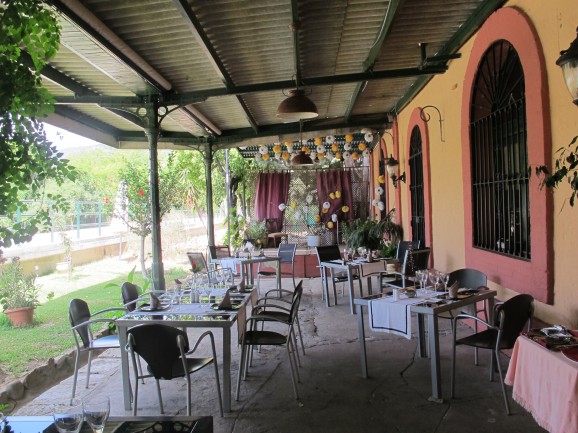 The train station restaurant in San Pablo de Buceite where Michael Portillo ate when he travelled on Mr Henderson's Railway for one of his BBC Great Continental Railways Journeys. Trains still go through the station, which is a request stop.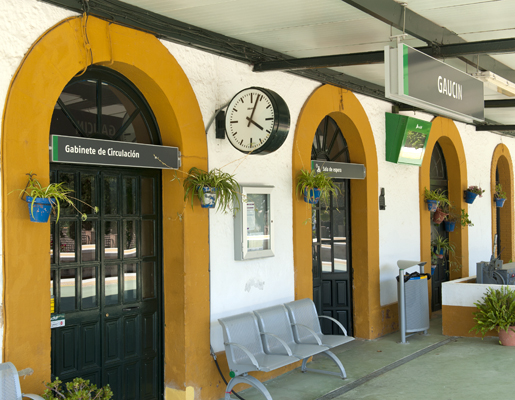 Next stop Gaucin - the station is some way below the famous hilltop town, in El Colmenar.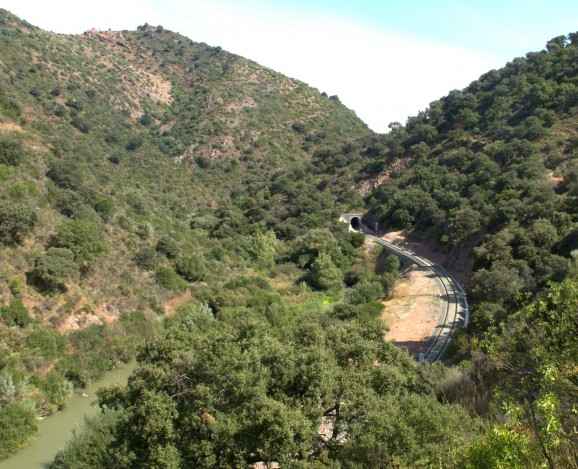 Mr Henderson's railway follows the river Guadiaro, offering superb views of wild tree-covered hillsides. You can hike alongside some parts of it too.
The first section of the line from Algeciras (the plan to take the track to the border at La Linea was scuppered by the Spanish government, so travellers had to take a steamer from the Rock to the Spanish port city) had small countryside stations at ground level, serving hilltop towns hundred of metres above. Offshoot communities grew around the stations, often named "Estacion de X".
The railway line follows the river Guadiamar, as it snakes through the valleys, and sometimes you can
hike alongside it
. There are grand Edwardian hotels at either end, the Reina Cristina in a commanding position overlooking the bay of Algeciras, while the (recently-revamped) Reina Victoria has sweeping views from Ronda's gorge-top spot.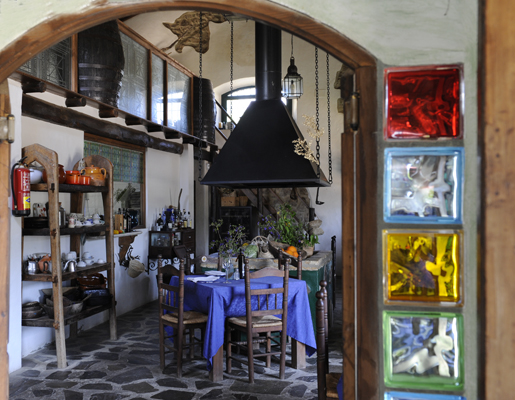 Caserio Ananda serves hearty food cooked using their own home-grown veg. The restaurant is in an old cargo shed.
Trainspotters have long been enamoured of this historic train line, which cuts its way through mountains, winding alongside rivers and over bridges - the journey from Algeciras to Ronda takes just under two hours, passing through pretty villages, lush green valleys and overlooked by soaring peaks of limestone.
Now Michael Portillo, the ex-Tory MP-turned-TV presenter and pundit, is going to reveal its glories to the BBC audience in a new episode of his popular series
Great Continental Railway Journeys
.
I did a similar trip recently, with the excellent Toma Tours, a boutique travel company which takes small groups to off-the-beaten-track locations around Andalucia and was involved in the restoration of the train line. On this gourmet hiking tour, we ate at two of the restaurants featured in the Mr Henderson's Train episode.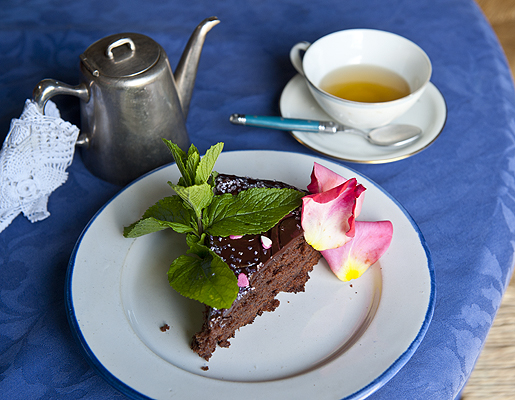 Home made chocolate cake at Caserio Ananda - utterly delicious!
Both were family-run, warm and welcoming, and used superb fresh ingredients and local specialities such as organic tomatoes, Iberian pork, langoustines and goats' cheese, while being innovative to the point of mystifying - we were given a bowl of fragrant brown ice-cream each, and asked to guess what flavour it was (I won't spoil the fun, in case you go there yourself).
This is deep Andalucia, where tourists are thin on the ground, and you'll meet real Andaluzes who have family businesses, work the soil and produce dishes their grandmother cooked for them, often with a contemporary touch. I can't wait to see what Mr Portillo, as guided by the hugely knowledgeable and charming Manni of Toma Tours, made of such a wonderful region, its scenery and its cuisine.
The episode of
Great Continental Railway Journeys
which features Mr Henderson's Railway, Madrid to Gibraltar, will be broadcast on BBC2 next Sunday, 27 October at 8pm.