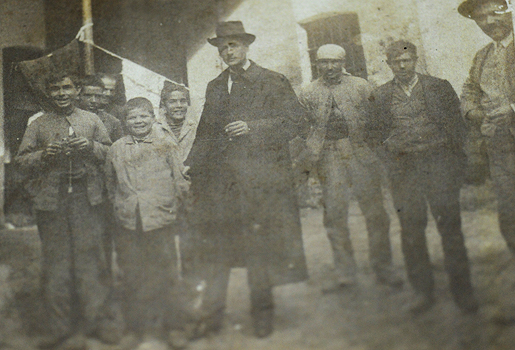 British engineer, John 'Juanito' Morrison.
MR Henderson's Railway
by Chris Chaplow

British engineer, John Morrison, backed by his friend and wealthy financier Sir Alexander Henderson - later, the first Lord Faringdon won the rights to build the railway from Algeciras to Bobadilla, where it met the main line to Madrid, the gateway for the rest of Europe. The first section of the railway up to Jimena was officially opened in October 1890, and the next to Ronda in November 1892, operating six passenger trains daily through 22 stations.
TiMELINE
25 Jun 1880 "Ferrocarril Directo de Jerez a Algeciras y Gibraltar" company constituted and plans published for this route via Jimena de la Frontera. Advance works started on the section from Algeciras to Jimena but the company had financial problems and forced to close.
14 May 1888 Auction of the assets of the above company together with the auction of the rights of concession to build and run the "Ferrocarril de Bobadilla a Algeciras". "Greenwoody Co" of London bought both.

1889 Works underway on the railway by "The Algeciras Gibraltar Railway Company" financed by Sir Alexander Henderson and engineer John Morrison. 178km (110 miles) of track in total.

6 October 1890 Inauguration of the Algeciras to Jimena section of 42km.

7 September 1891 Inauguration of the Ronda to Bobadilla section of 70km.

24 November 1892 Inauguration of the Ronda to Jimena section of 64km.

19 March 1893 AGRC authorised to construct a wood and steel jetty in the Bay of Algeciras, and a connecting railway line along the bank of the River Miel from the railway station to the jetty (the original intention was to build the railway to La Linea de la Concepcion, at the land border with Gibraltar, but this wasn't permitted).
16 December 1893 "Elvira" packet (regular) steamer service, named after one of Henderson Family, from Algeciras to Gibraltar inaugurated.
1897 "Sur Express" hotel train from Paris to Madrid extends its service to Algeciras on Mondays.

1902 Opening of the Hotel Reina Cristina in Algeciras and Hotel Reina Victoria in Ronda, both designed by eminent British architect Thomas Edward Colcutt who also designed Monte de la Torre.

1906 Conference of Algeciras at Reina Cristina Hotel: 12 nations meet to decide future of Morocco (between France and Spain).
2 July 1913 Algeciras-Bobadilla line passed over to the "Compañia de Ferrocariles Andaluces".
1941 Spanish railways nationalised as RENFE.
1965 Original Beyer Peacock steam locomotives replaced with diesel engines. "Bobadilla 2-2-0" is in Museo del Ferrocarril de Catalonia (Catalunya Railway Museum)in Villanueva y Geltru.

31 Dec 2004 RENFE passes all installations (administration of rail infrastructure - stations, terminals; traffic management) to Adif.

2010 extensive upgrades to signal equipment, platforms raised to suit modern rolling stock.
Several accounts of Mr Henderson's Railway, including the history, are featured on Andalucia.com: by Sue Walk in 1995; Belinda Beckett in 2013; Fiona Flores Watson in 2013.
History-based articles
Acccount of the journey Gibraltar connection and the history by Sue Walk from Mediterranean Life magazine.
Gibraltar connection article about the railway and its history by Belinda Becket from Gibraltar magazine.

Algeciras Gibraltar Railway Cº (Algeciras - Bobadilla) (Spanish article)
Ronda y el Ferrocarril paper by Pedro Sierra de Cozar presented at the IV Congreso Historia Ferrovia
Un Proyecto Fallido: The Malaga and Gibraltar Railway Company paper by Pedro Sierra de Cozar presented at the IV Congreso Historia Ferrovia

.