Hotels in Ronda and the surrounding countryside
These hotels, either in or close to the historic town of Ronda, all have a strong natural element. They are set in gardens, parks or woodland, often in traditional Andalucian farmhouses. A few of the hotels are in the town of Ronda, but with delightful outdoor areas lush with exotic, colourful vegetation such as palm trees and bouganvillea, while the others are all within easy reach of this historic town.
You can spend time relaxing outdoors in the peaceful garden or by the pool of these hotels, enjoying the sights and sounds of nature. In some cases, you can go horse-riding - a great way to explore the surrounding countryside, with Ronda's spectacular mountains and valleys. Hikers and bird-watchers will also enjoy these rurally-located hotels, where paths take you (literally) off the beaten track.
Book Hotels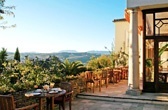 Stylish luxury country hotel located between olive and pistachio-groves just outside Ronda. This hotel features a superb restaurant with fine and informal dining. Many ingredients are locally sourced.