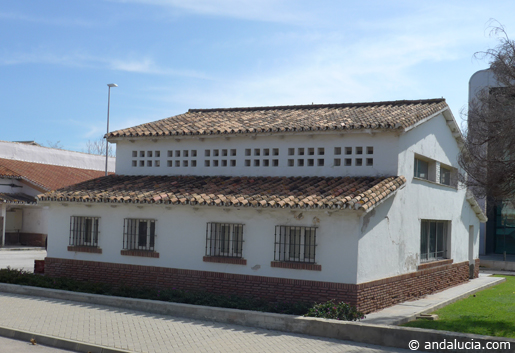 The museum at Malaga Airport was the original terminal from 1948 to 1965.
Málaga Airport Museum
The Málaga Airport Museum is worth a visit whether you love airplanes, airports, local history or simply getting a glimpse inside a project 100% made-in-Málaga by a group of passionate, "Friends of the Museum" who are always dreaming up new exhibits and restoring new artifacts for display.
What can you see and experience at the MÁlaga Airport Museum?
If you know a bit of airport history before you visit the museum, then you'll be pleased to enter the original terminal building that served Málaga from 1948 until 1968. Today the building is filled with artifacts that pay tribute to the history of air transport in Málaga. This starts at original the check in counter as you enter the facilities. Now it is staffed by mannequins, but they do their jobs well.
You can wander through this building exploring the exhibits and even visiting the old control tower to inspect the old fashioned light signaling system and enjoy the rather limited views air traffic controllers enjoyed in the good old days – compared with modern control towers.
There is also a room full of hands-on displays for children (and the young at heart) with exhibits such as radar simulators, motors, satellites in orbit and a machine for "practicing" Morse code.
Thanks to the Friends of the Museum, there is also a home-made flight simulator on site. This is your chance to discover what it's like to pilot a Boeing 737. The simulator is located near the museum reception area and may require prior permission to use.
The museum also has a new wing full of airplane paraphernalia that has been restored by the Friends of the Museum. There is also a special facility designed to receive school visits – and in 2011 the museum received student number 10,000.
Among planes restored by the Friends of the museum are a Convair 440-75 that was part of the SAS Airlines fleet in 1958, a DC-3 and a DC-9 from Iberia Airlines, a small Beechcraft that served the Moroccan Royal family and was restored in 1999, a Wasmer WA-40 Super IV, a De Havilland and a Dornier.
Contact
Tel 952 048 176
You can also e-mail (in English or Spanish) [email protected]
Opening Times
The museum is open:
Tuesday to Friday 10.00 - 20.00 hrs
Saturday 10.00 - 14.00 hrs.
Sunday closed.
Holidays except Thursday and Friday of Holy Week, December 25 and January 1.
Admision
Free
Location
To reach the museum from the motorway, head towards on the original coast road (not motorway)  take a left at the first roundabout (San Miguel Brewery) and follow the signs to the General Aviation Terminal. The museum is right next door.
Destinations