VAT Refund at Malaga Airport
If you have been saving your receipts in order to recover money you paid for IVA (VAT) taxes while in Spain, you'll find the tax office in Terminal 3, departures, has now been replaced by terminals located in the departure area oposite check-in desks 363 to 386. That is round the corner a little from the location of most of the check-in desks. It is the check-in area to the right hand side of security.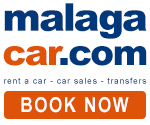 Professional car hire services at Malaga airport. All-inclusive prices, book your car online and pay on arrival - without cancellation fees!
Eligability for requesting a VAT refund
Regular residence outside of the European Union (or in the Canary Islands, Ceuta or Melilla).
Your purchases must be personal; not for commercial purposes.
You are required to leave the European Union within the three months following your purchases.
Procedure
When making purchases on holiday, ask the shop for the electronic tax free form called the "electronic reimbursement document".
At the airport when leaving Spain and before checking your baggage, you must electronically validate your electronic reimbursement documents. Go to the DIVA screens in the airport check-in areas. At Malaga they are opposite check in desks 363 to 386.
You will need:
Passport
Purchase receipts
DIVA form issued by the shop
The good purchased must be with you.
Bording card
Use the DIVA terminal, select language and follow the instructions. Scan the barcode on the DIVA form. If you DIVA form can not be (electronically) stamped go to the Guardia Civil office near the terminals.
No physical document is issued with the validation result. You can check the status of the process using the CSV (secure verification code) number on the form by accessing: https://www.agenciatributaria.gob.es/AEAT.sede/tramitacion/ZZ05.shtml
Once the validation has been confirmed on the screen or at the office, you can obtain the refund directly at the Tax Free offices after security in the boarding areas next to gate D42.
This process is when leaving the EU on a direct or connecting flight from Malaga. If you are flying to another EU country to continue your travel the process is completed at EU departure airport.
Obviously allow extra time for the process.
The good purchased may me kept in a check-in suitcase. Make sure they are easy to retrieve in case you are asked to show them.
Destinations